Brown granite kitchen cabinets can be a beautiful addition to any home. But what paint colors go with brown granite? There are many options, but it's important to choose the right one for your home. This article will explain more about paint colors for brown granite kitchen cabinets.
What Color Cabinets Look Best With Brown Granite Countertops
Creamy Beige
This paint color is the perfect match for a brown granite kitchen cabinet. The creamy beige will look great with the darker brown granite and give it a more modern touch. It is also a great color to go along with other shades of brown in your kitchen, like chocolate or honey brown, so it can look like a uniform color scheme with other elements in your kitchen.
Rustic Brown
The shade of rustic brown will pair well with any other elements in your kitchen, such as dark chocolate brown, tan or light gray. Rustic brown can also work well in small areas like bathrooms or mud rooms where you don't have much space to work with. It's also an excellent choice if you want something neutral but still attractive.
Dark Chocolate Brown 
Chocolate brown is a great color for kitchens that are warm and inviting. It has a warm cast to it, which makes it the perfect color to pair with brown granite cabinets. The color also looks great with dark wood cabinet doors, which is one of the best choices you can make when you want to renovate your kitchen.
The best part about using chocolate brown in your kitchen is that it will be able to give off a warm glow thanks to its rich color and tone. This makes it an ideal choice for any room in your home, especially if you have a small dining room or living room nearby.
Gray
Gray is a neutral shade that works well with almost any other shade of color in the room, including brown and black. Gray can usually be found in many different shades, so if you're looking for something more toned down than black or dark brown, this would be an excellent choice for you!
Black
Black marble has been used in kitchens since ancient times because of its durability and resistance to stains, scratches, and other damage caused by everyday wear and tear. If you're looking for a more neutral-looking granite countertop option, black marble may be the perfect choice for your kitchen remodel project!
How Do You Match Brown Countertops?
Brown granite is a gorgeous color that works well with most other colors. It's neutral, so it can be paired with any other color in your home. But there are a few tricks to making sure your color scheme looks cohesive and coordinated.
One of the easiest ways to get started is by using the natural brown as an accent on your countertops. You can add a few small accents of different shades of brown throughout the space, or just one large accent. This will help keep your overall look cohesive, but also give you some variety within each area of the room.
When choosing paint colors for brown granite kitchen cabinets, be sure to consider how much contrast you want between your base and top colors. 
Should Cabinets be Lighter or Darker Than Countertops?
If you have brown granite kitchen cabinets and a dark countertop, the two should be complementary. If your granite has a medium to dark tone, you can use a lighter color for your cabinets or even white if you want.
If you have lighter-colored red granite and light-colored cabinets, use darker colors for your cabinet doors and trim. Darker colors like black or brown are good options for this combination because they will contrast with the light granite and make the room look bigger than it is.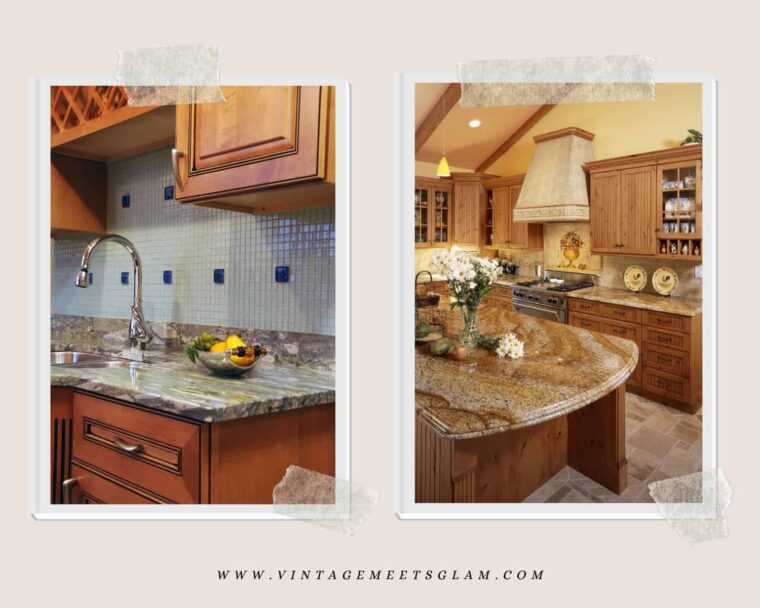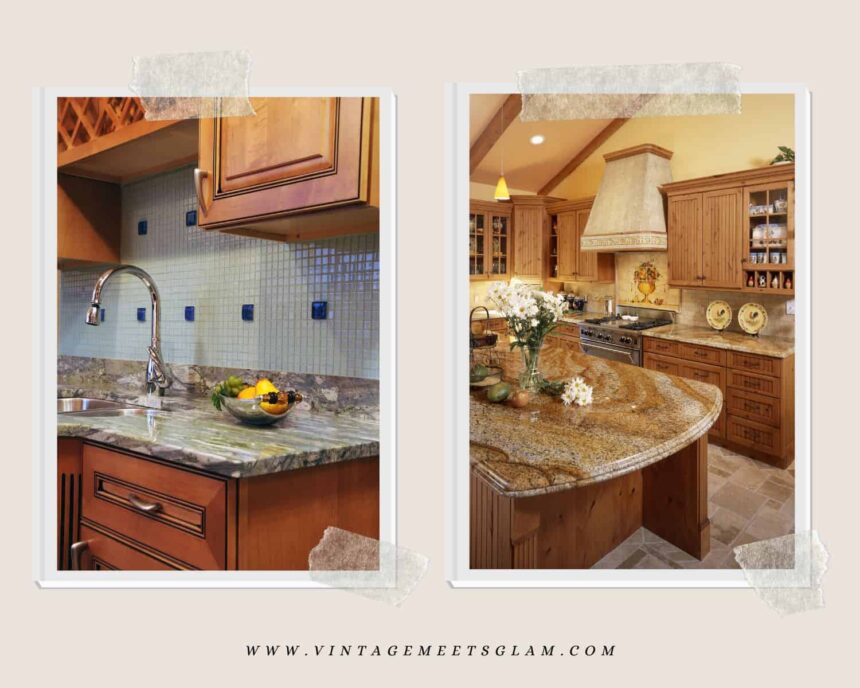 How to Choose the Right Color of Paint That Goes With Brown Granite
When choosing the right color of paint to march broen granite cabinets, here are some tips to try: 
Your Design Theme
Your kitchen will have a color palette that reflects its design theme. If you have a modern look, then use a warm, neutral brown. If you're going for a traditional look with more of an Asian influence, then choose more cool and vibrant hues.
Color Undertone
When painting your kitchen, consider the color undertone of your granite. If it's dark granite with a light-colored top coat, then use white or off-white paint for the countertop, However, if it's light granite with a dark-colored top coat, then use light-colored paints to match the natural look of your stone.
Color Mixture on the Granite
If your granite is already painted in its natural color, then stick with that color choice. Otherwise, If you want to match an existing color in your granite, then start by sanding down all exposed edges and replace any damaged grout lines with new grout lines or tile backsplash tile. Then wash down all surfaces with a strong cleaner 
How to Make Brown Kitchen Cabinets More Modern? 
There are cases where you may want tp improve the look of your kitchen cabinets. Here are some tips to try out: 
Embrace the Natural Wood
The best way to add color to your brown kitchen is with natural wood materials. If you want to make a bold statement in the kitchen, then you should consider using natural wood cabinets with contrasting white or light-colored countertops. You can also use natural wood for accent pieces such as door pulls and handles on drawers and cabinets. This will give your brown kitchen a warm feel that's perfect for any style of home décor.
Upgrade the Hardware
If your brown kitchen cabinets are still in good condition, it's time to upgrade them with new hardware. New handles and pulls will give your kitchen a fresh look and feel, while adding extra functionality as well. Try out various types of handles and pulls to see which ones suit your kitchen best!
Install Stainless Steel Appliances
A stainless steel appliance is one of the most popular ways to make your kitchen look more modern and stylish. If you're thinking about getting an electric stove or oven, then this is one of the first things that should come on your list. A stainless steel stove can add a lot of character and elegance to any space and will ensure that everyone sees how great your new space looks when they walk through the door.
Replace the Backsplash
If you want to make your kitchen look more modern, then changing out the backsplash is one of the best ways to do it. You should replace it with something from another color family like white or black so that it doesn't match everything else in your home. This also helps you create a cohesive look throughout your entire home since every piece will be matching in color and style.
Paint the Walls
Paint the walls to match the existing cabinets. This way, you can make sure that your kitchen looks cohesive and modern.
You can opt for a different color on a wall or two, or use one of the existing colors in your kitchen to painting all of the walls. But remember that this is only one option.
If you're not sure what color to paint your room, consider hiring an interior designer or architect who can help you find the right look for your home.
Conclusion
It is easy to forget or overlook the importance of a color scheme when it comes to designing a kitchen. However, a color scheme is critical in determining the outcome of your design. The colors you choose can make your space look bold and innovative or they can make it look stale and boring. At the end of the day, all you want from your kitchen is for it to reflect your style and personality.