When it comes to choosing materials for your deck or fence, two popular options are vinyl and composite. While both offer durability and low maintenance, there are some key differences to consider
Vinyl fence is a plastic material, while composite combines plastic and wood. Vinyl fences are more affordable than composite fences, but they don't last as long or look as good. In this article, we will compare the advantages and disadvantages of vinyl vs. composite fences.
Differences Between Vinyl vs. Composite 
When choosing between Vinyl and composite fences, there are several differences that you should take into account. They include: 
Maintenance
The main difference between vinyl and composite fences is their required maintenance. Vinyl fences require less maintenance than composite. This is because they don't have a backing material, which makes it easier for you to clean up any messes that might happen on the surface of your fence. Also, vinyl doesn't need painting or staining as other materials do.
Composite fences are more difficult to maintain because they're made from multiple materials. Thus, they require more care during installation than vinyl, especially if you live in an area where there's snowfall or rainwater runoff nearby!
Composite fences are more durable and withstand extreme weather conditions better than vinyl. They can be more challenging to install if you live in an area where there's not a lot of access or space for work crews.
Price
The price of vinyl fencing is less than that of composite fencing. Vinyl fences are generally cheaper than composites, especially for larger-sized fences. The cost of a vinyl fence can vary depending on the size, style, and material used in building it.
Unlike vinyl, composite fences are more expensive. Composite fences can cost between $2 and $4 per foot, while vinyl fences range from $0.50 to $1 per foot. If you buy a fence with 6-foot posts and 5-foot rails, your total cost will be about $120 for both materials. If your total budget is $200 or less for a new fence installation project, then it may be better to choose vinyl over composites.
Aesthetics
Vinyl fences are less expensive, but they're also more likely to need replacement due to wear and tear. If you're looking for a more natural-looking fence, composite is the way to go. Vinyl fences are much more common and easier to install than composite ones.
If you don't mind paying a little extra, this may be the best option for your needs. One thing that makes composite better than vinyl is its durability. It's designed as an outdoor product to withstand harsh elements like sun exposure and rainwater. Additionally, composite is typically more expensive but offers a wider range of design options with different color and texture choices.
Easy to Installation 
Vinyl fencing is easier to install than composite fencing. It's also easier to repair, and you can replace it if it gets damaged or lost. Composite fences are harder to install because they require more labor, but they are more durable because they use fiberglass rather than vinyl.
Repairs and Replacement
The most important thing to know about repairing vinyl or composite fencing is that it's straightforward. If your fence gets damaged, you can fix it yourself with a few tools and some patience.
Vinyl fences don't have any moving parts like a wooden deck does, so there aren't many ways for them to break down over time. You'll have fewer issues with replacing damaged boards than you would if you had an aluminum or composite fence installed on your property!
For example, composite fences can be easily repaired with lumber scraps or new posts. If the vinyl fence is damaged, you will have to replace it entirely.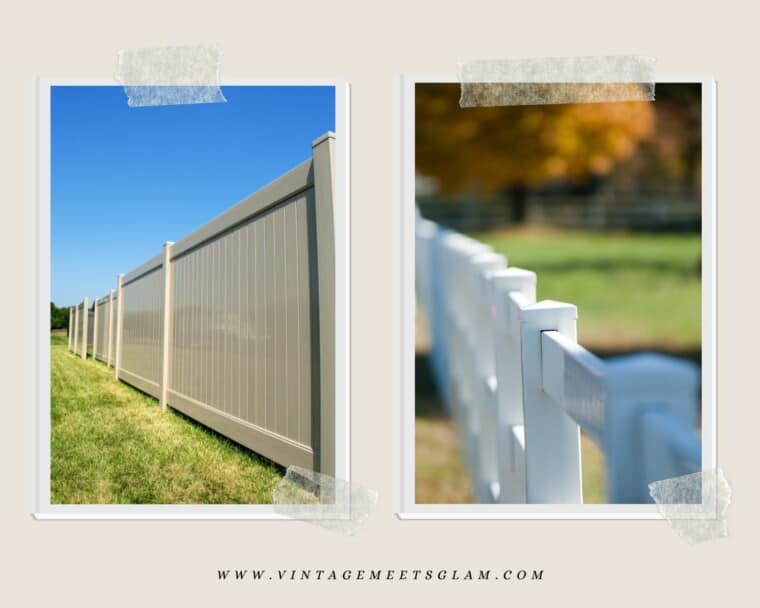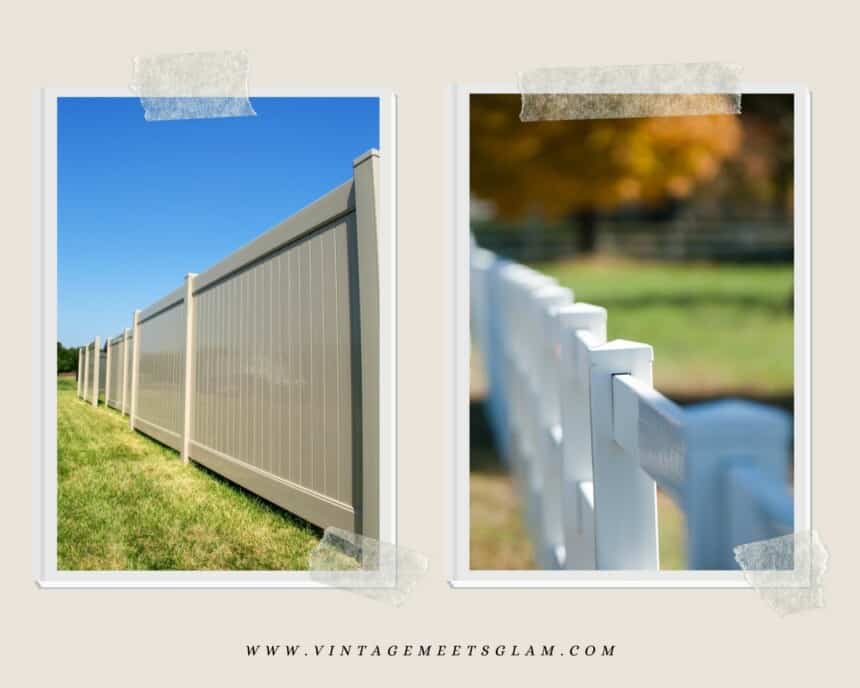 Vulnerability to Extreme Weather Conditions
Vinyl is more vulnerable to extreme weather conditions, including direct sunlight and high heat. This can lead to cracks in the vinyl that allow water, dirt, and other debris inside your fence. In addition, vinyl fences are not resistant to UV rays which can damage the surface of a composite fiberglass material over time.
Composite fence panels are made from multiple layers of fiberglass cloth bonded together with resin under heat and pressure. The resin hardens after it's applied, so you won't see any gaps where different materials meet up on each panel.
Labor Intensive
Vinyl and composite are durable, but vinyl fence is more labor-intensive. Vinyl requires an electric drill with a 1/2″ bit to install the posts and rails on your fence.
You will also need to cut your boards into the required lengths. Composite does not require any special tools for installation. This is because it comes pre-assembled and all you have to do is attach it to your existing fence
Pros of Vinyl 
There are several advantages to vinyl:
Multiple Designs
When it comes to vinyl fences, there are endless options for customization. From traditional white picket designs to more modern black vinyl panels, there is a style to suit any taste and complement any landscape. In addition to different styles, vinyl fences also come in a variety of heights, allowing you to determine the level of privacy you desire.
 And with vinyl's low maintenance requirements and durability, the fence will continue to look great for years to come. So when it's time for a new fence, consider all the possibilities vinyl has to offer. You won't be disappointed with the myriad of design options at your fingertips.
Property value
A vinyl fence is more affordable than a composite fence. Vinyl fences are also less expensive to install and maintain, but they also have drawbacks. While vinyl fences offer a low cost of ownership, they're not as durable and may require replacement sooner than expected.
Cleaning and Maintenance
Vinyl is easy to clean. It's waterproof and can be wiped with a hose or pressure washer. Composite requires more maintenance, as you'll need to apply paint or sealant every few years, but it can also be cleaned with a hose if needed.
Vinyl fence panels are more accessible to repair than composite ones because there aren't any nails involved in their construction. 
Pro of Composite
The following is a composite pro;
Strength
Composite fence panels are a newer material, and they're stronger than vinyl. They're also more environmentally friendly and durable than vinyl. Composite fences are typically made out of plastic or fiberglass resin, but some manufacturers use other materials like aluminum or steel in their designs.
Better Attraction
Made from a combination of recycled plastics and wood fibers, composite fencing has the natural appearance of wood without the risk of rotting or warping. It also requires little upkeep, allowing for a long-lasting and low-maintenance fencing solution. In addition, composite fencing is available in a range of styles and colors, providing homeowners with even more options for creating a beautiful outdoor space. Ultimately, composite fencing offers not only functionality but also increased attraction and aesthetics.
Cons of Composite 
Composite has many cons but below are some of them:
Heavier than Natural Wood
Vinyl fence is lighter than composite, so it will be easier to move around and install. However, a composite wall is more durable because it's made from premium materials like metal wire or wood fiber. Composite fences are also more attractive and environmentally friendly since they don't require painting or staining like natural wood.
More Expensive Than Traditional Wood
Made from a blend of recycled wood and plastic materials, these fences offer a higher level of durability and require less maintenance than traditional wooden fences. However, it's important to note that composite fencing can often come with a hefty price tag. In fact, it's not uncommon for composite fencing to cost two to three times more than traditional wood or vinyl options.
Conclusion
The good news is that vinyl fencing is more durable, but it can be expensive to install. Composite fencing, on the other hand, requires less labor and maintenance costs but will be less attractive in the eyes of its owner. If you have a large property with many animals, then composite may be a better option for you because it's stronger than vinyl and much.