Eucalyptus wood furniture is popular with many homeowners.
Eucalyptus is a wood that has been used to make furniture, furnishings, and other things in the past.
It is a fast-growing tree that provides an abundance of wood which makes it great for making outdoor furniture.
Eucalyptus is a popular choice for outdoor furniture due to its resistance to mold and mildew, low maintenance, and durability.
With its reddish-brown color and distinctive aroma, eucalyptus is certainly a popular choice when choosing outdoor furniture.
However, eucalyptus wood is not without its disadvantages.
This article will cover the pros and cons of eucalyptus wood furniture.
Is Eucalyptus Wood Good For Outdoor Furniture?
Eucalyptus is an ideal choice for outdoor furniture because it is resistant to the harsh conditions that many outdoor surfaces face, including UV rays and rain.
It is also lightweight, making it easier to move around than heavier woods such as cedar or pine.
Eucalyptus is a very strong hardwood that can be used in place of teak.
It comes in several varieties, depending on the part of the world where it grows.
If you want to buy eucalyptus furniture, make sure you know exactly what type of eucalyptus is being used and how old it is when you buy it.
Eucalyptus has a strong smell when first cut but this fades over time so if your piece does have a strong smell upon arrival then this will fade away over time too.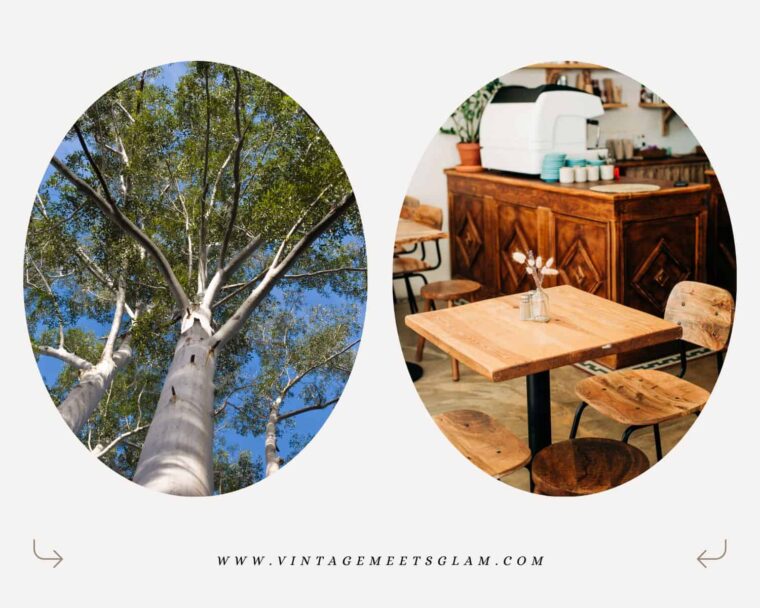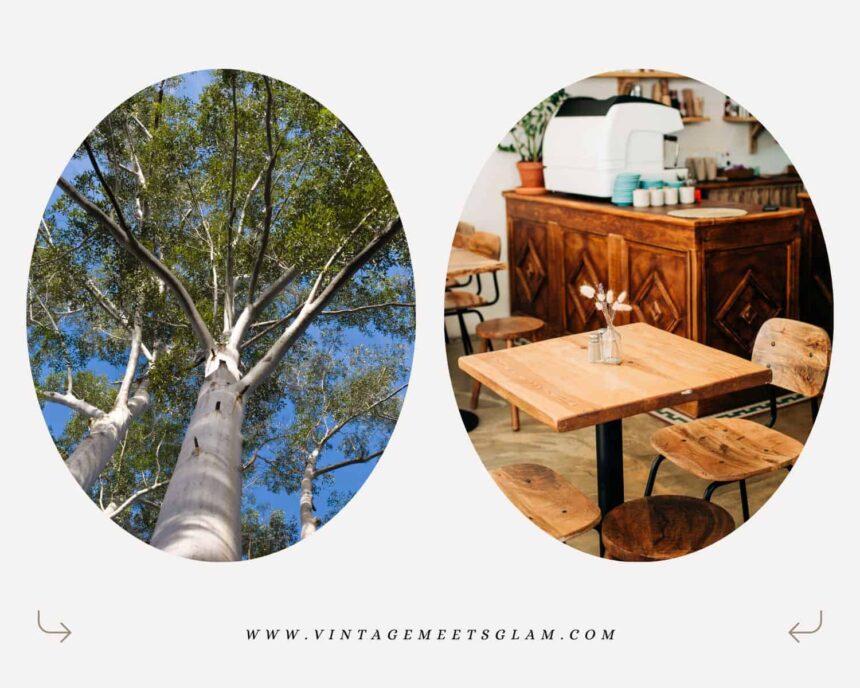 Pros of Eucalyptus wood for furniture
Eucalyptus wood gets better with time
Eucalyptus wood is a natural product that gets better with time.
The longer it's been in use, the softer it will become.
If you're looking for outdoor wooden furniture that's going to last a long time, don't be afraid to give eucalyptus wood furniture a try.
You can even choose from different grades of wood when purchasing your furniture and make sure to get one that will hold up over time.
It ages gracefully and eucalyptus furniture can even be passed down from generation to generation!
Eucalyptus wood furniture is affordable
Eucalyptus Wood Furniture is a great choice for anyone who wants to save money and is looking for something that will last a long time.
As it has a very low cost per piece, you can get many different pieces of furniture for the same price as one high-end piece.
This makes it a great choice for people who need furniture but don't have much money to spend on new items.
Eucalyptus wood furniture is eco friendly
Eucalyptus wood furniture is an environmentally friendly product because it comes from a renewable resource and has no chemicals or pesticides added during production.
It does not contain any harmful materials that can make your family ill or affect the environment in any way.
This makes it a great choice for those who want to protect the environment but still enjoy their beautiful new pieces of furniture!
Eucalyptus wood is durable
Eucalyptus is a hardy and sturdy wood that can withstand wear and tear.
It has natural oils that can help it last for 25 years when used for outdoor furniture.
It has a natural resistance to the elements, so you can use it in any outdoor area of your home.
Because it does not warp, crack or rot under extreme weather conditions, you will be able to use this type of wood furniture for many years on end.
Eucalyptus Wood is very attractive
Eucalyptus wood has a beautiful, straight grain pattern that makes it ideal for making outdoor furniture.
It also has a consistent color and texture throughout, which allows you to easily match any other pieces you may have in your home.
You can also use eucalyptus as an accent piece or add it to your existing furniture to give it that extra special touch.
Eucalyptus wood is not affected by degeneration and rot
Eucalyptus timber has a high resistance to the effects of moisture, which makes it suitable for outdoor furniture.
This makes it an excellent choice for building furniture that will be exposed to rain and snow, even if you live in a tropical climate.
Eucalyptus offers the same advantages as teak wood
Most of the above-mentioned advantages of using eucalyptus wood for outdoor furniture are the same advantages that come with teak wood.
However, teak wood is a more expensive option for outdoor furniture.
Eucalyptus is cheaper while providing the same advantages.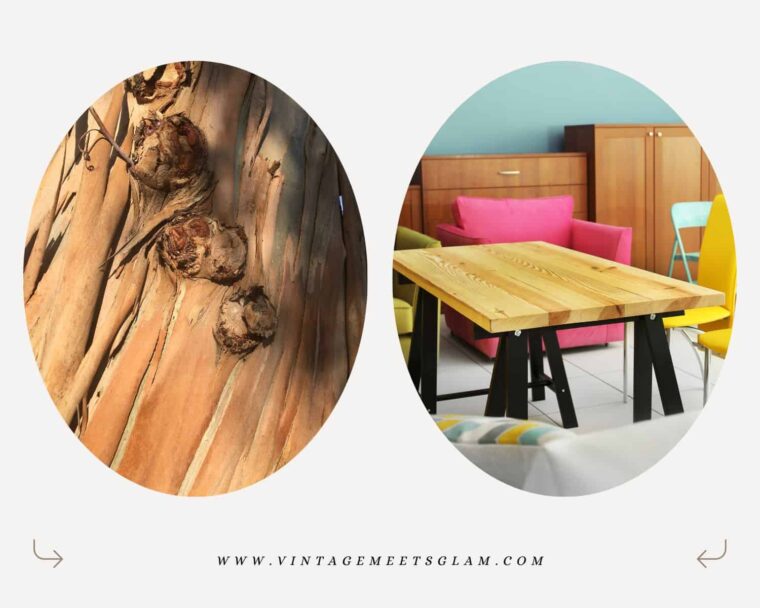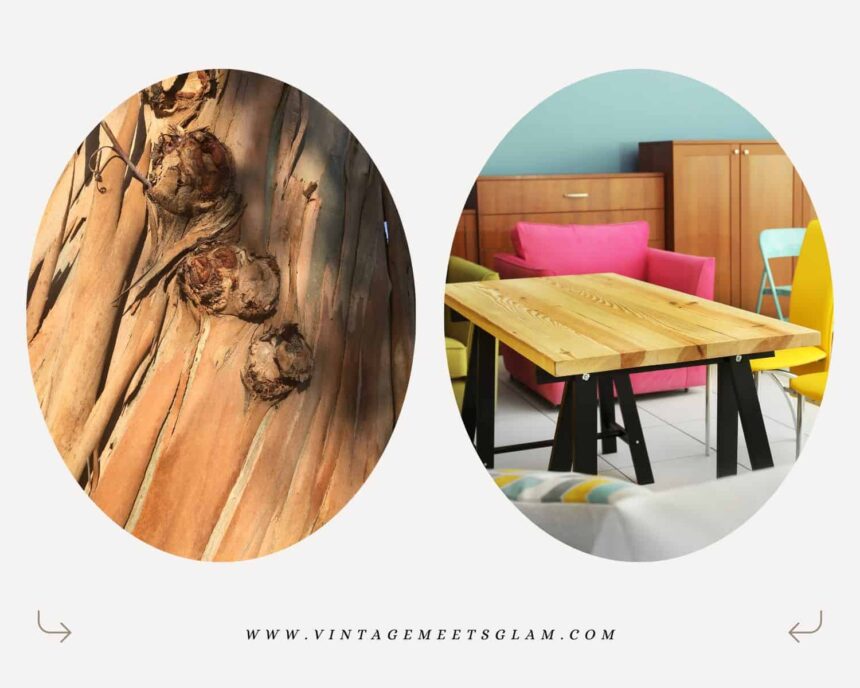 Cons of Eucalyptus wood furniture
Eucalyptus wood furniture is badly affected by winter
Eucalyptus is a tropical tree, which means that it naturally grows in warm climates.
Eucalyptus wood furniture is therefore prone to cracking and drying out during the winter months.
This is why it's important to store your new eucalyptus wood furniture inside during the cold months.
Eucalyptus wood is affected by changes in temperature
Eucalyptus wood can be a bit of a challenge to work with.
The biggest con of eucalyptus wood furniture is the fact that it can crack due to temperature changes.
This is because eucalyptus wood can absorb moisture and cause swelling and cracking of the furniture.
If you are looking for a new piece of eucalyptus furniture, make sure that you keep it in a dry place.
It might need replacement
Eucalyptus wood furniture will need to be replaced with time.
As the wood ages, it could begin to warp and shrink.
Also, because of its high moisture content, eucalyptus can rot from the inside out if left untreated for too long.
Eucalyptus wood furniture is prone to insects and pests
One of the main disadvantages of eucalyptus wood furniture is that it is not resistant to insects and pests.
This can lead to severe damage and even destruction if the furniture is not treated properly.
As a result, you may need to replace your furniture sooner than you expected.
You can get rid of the pests and insects by washing the furniture, which will also help remove any dirt or grime that may have accumulated.
Eucalyptus wood can cause allergic reactions in some people
The most common allergic reaction is asthma-like symptoms: shortness of breath, chest tightness, or coughing.
You can also get skin rashes, swelling, or hives on your lips, tongue, or inside your mouth.
The reason this happens is that eucalyptus contains chemicals called monoterpenes that are released when it gets hot.
Eucalyptus wood furniture can discolor with time
The most common complaint about eucalyptus wood furniture is that it discolors with time, especially in areas where there is a lot of natural light.
This can happen in any type of furniture, but it's most noticeable in dark colors like black, red, or brown. The discoloration will be more evident after only a few years of use.
Teak wood is more durable than eucalyptus
Although eucalyptus does have its advantages though, teak will last longer because it's more stable and harder to break.
It also has a much lower moisture content than eucalyptus, which means it doesn't absorb moisture from the air as eucalyptus does.
Conclusion
Overall, wood furniture remains one of the most popular choices for furniture.
Outdoor wood furniture made from eucalyptus is a great option for those looking for an ecologically-minded alternative to typical wood choices that is also more affordable.
It's also a good choice for homeowners who like the lightweight look and feel of wood without the worry of upkeep that may come with a wood finish.
It holds up well over time, even in the toughest climates, making it an ideal choice for homeowners living in regions where extreme weather conditions are common.
The ball is now in your court, weigh the pros and cons of eucalyptus wood furniture to determine if it the right fit for you.