If you don't live in Dubai, Hawaii, Cancun, Rio de Janeiro, or another hot place like that, then it's probably winter for some time of the year, where you live.
This means that if you're getting outdoor furniture, then you need the best ones for snow and winter in general.
Not that you are going to sit down on chairs full of snow (unless you are?!), but you need to keep your furniture safe and protected anyway.
Of course, you should know that there doesn't exist  100% weatherproof furniture (sorry to break it to you, but whatever add you've read – they were *khmm khmm*, lying to you).
However, you get to decide what material your furniture is going to be, for them to last longer and not damage over time.
Since we would like you to get the best choice for you possible, we will answer some of the most frequently asked questions, when it comes to buying and choosing outdoor furniture for the winter.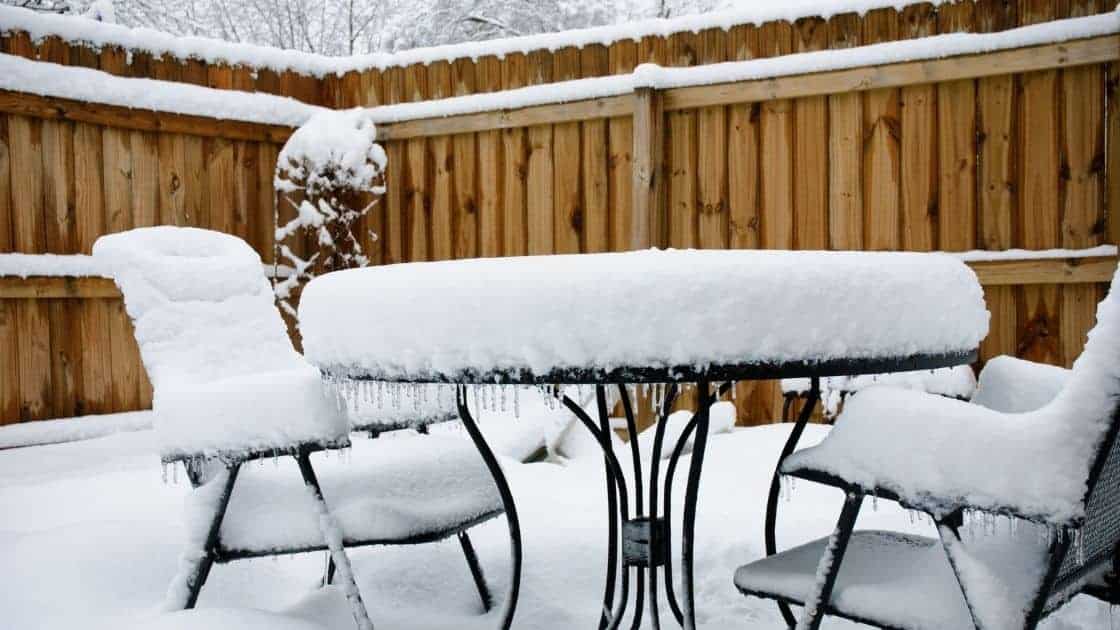 Okay first, what is the best material for outdoor furniture during the winter?
There are a lot of characteristics when it comes to outdoor furniture, from comfort, style, price, durability, and of course, material. You should know that picking the "best material" for patio furniture depends on many factors like the weather of your place, your taste, the size of the furniture, the style of furniture and specific needs.
However, when talking about "snow and winter", we would suggest you come down to these two options: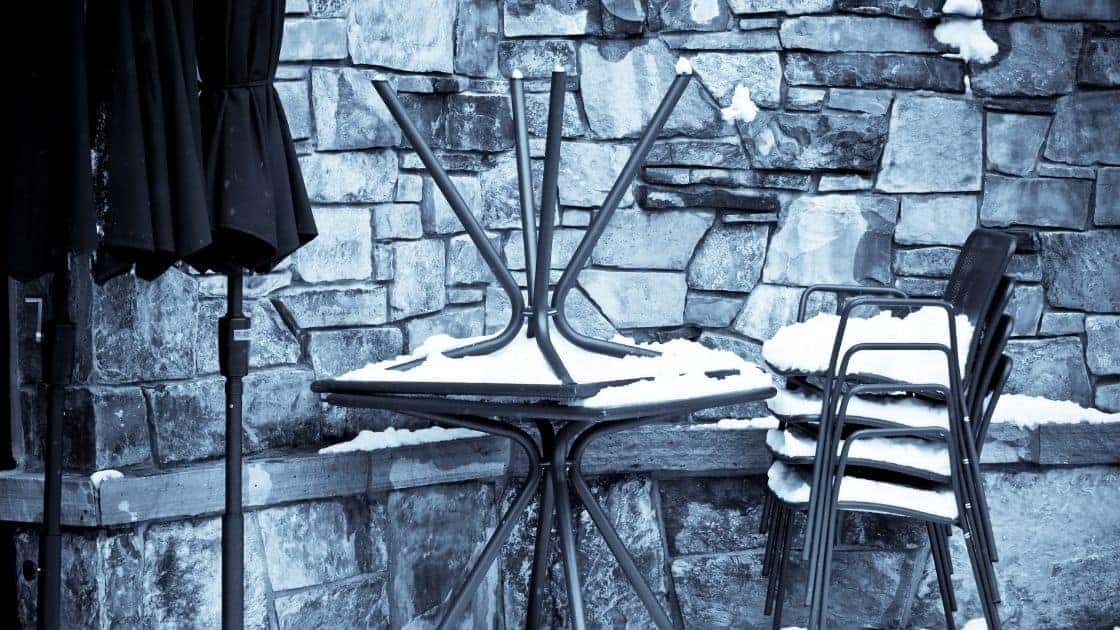 Aluminum, the most resistant material to snow
Aluminum patio furniture is almost entirely rustproof, and this quality makes it very desirable when choosing patio furniture.
However, that does not mean that this material does not require to be taken care of. You will learn more about taking care of your patio furniture during winter, later.
Right now, you should know that even a piece of aluminum furniture can get damaged from the winter wetness. This can end up ruining your patio furniture – by weakening especially the frames, leaving you with an unstable and wobbly chair or table, for example.
In addition to that, the moisture from winter can also damage non-aluminum parts on the furniture such as the bolts, nuts, etc., that aren't aluminum.
Teak, the best wood type to resist cold climates
Even though it is a wood type of patio furniture, teak wood is much more resilient and reliable than other wood types.
Therefore, it is such a good option when choosing outdoor furniture for the winter season.
Did you know that teak wood contains more natural oils than any other type of wood? Besides that, it is even more resistant to mold and mildew (Yaay!).
In case you didn't know, mildew and mold might make your patio furniture smelly, and trust us when we say, nobody will want to sit or stay near them. Believe us, we've been there!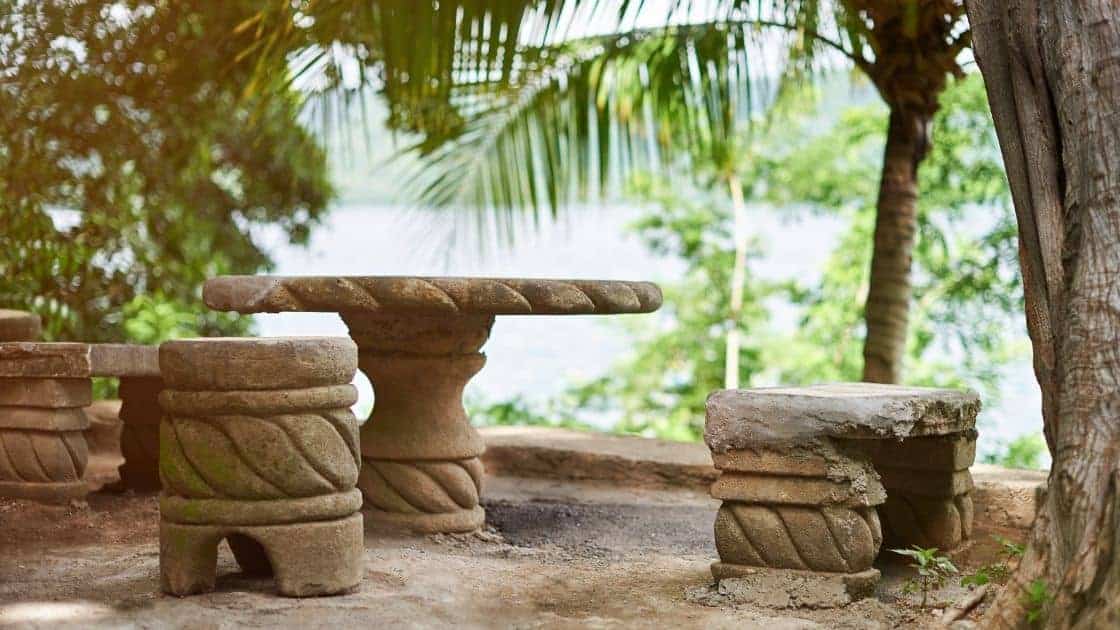 Natural Stone, a riskier choice
An item of natural stone furniture is an excellent option for outdoor furniture, but does it mean you don't have to be careful with it? Unfortunately, not.
Stone is porous and will retain moisture. Therefore freezing, and thawing can cause cracks and ruin the way your furniture is going to look, in a drastic way.
Meanwhile, Paul Davis, an architect based in Los Angeles, also the founder of "Paul Davis Architects", says that "outdoor furniture should generally be natural teak wood or stainless steel, or other metals with very durable industrially applied paint finish".
So, keep these in mind before choosing your next patio furniture.
Now, read along to get an answer to a few more questions we are sure you've been asking all this time: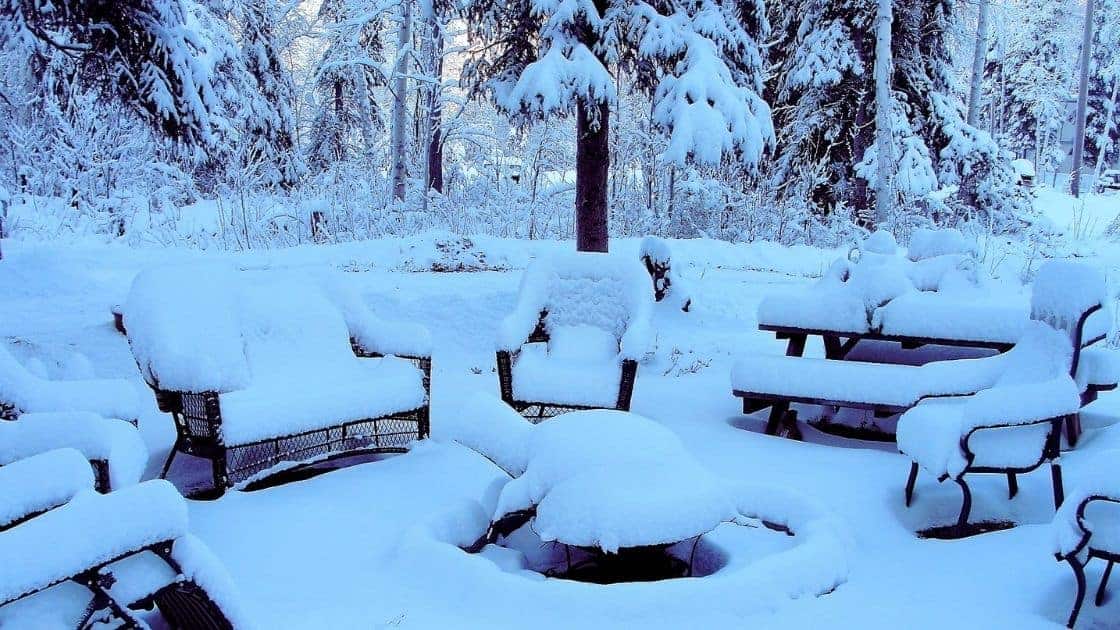 What outdoor furniture can be left outside in the winter?
Even though patio furniture is designed to be outdoors, when it comes to winter weather, doing so might damage your furniture. Especially, if you don't take care of it as you should.
If you're thinking of storing them inside or covering them, make sure to clean them before and apply protective sealants.
If you leave them unprotected, you are going to spend time cleaning and removing rust in the future, not to mention the furniture is going to look older and more used.
Below, you'll find some of the best methods for taking care of your patio furniture during wintertime. These practical tips will make your existing outdoor furniture live more and better:



#1 – Move patio furniture to a garage, shed, or storage unit
The best thing to do, unless you want to sit on a chair full of snow, would be to bring your outside furniture indoors. If you don't have where to store it, you might rent a storage unit. Yes, we know, this would be an added expense for you and your family. If you can't afford that, go to number 2 and maybe number 3 and so on.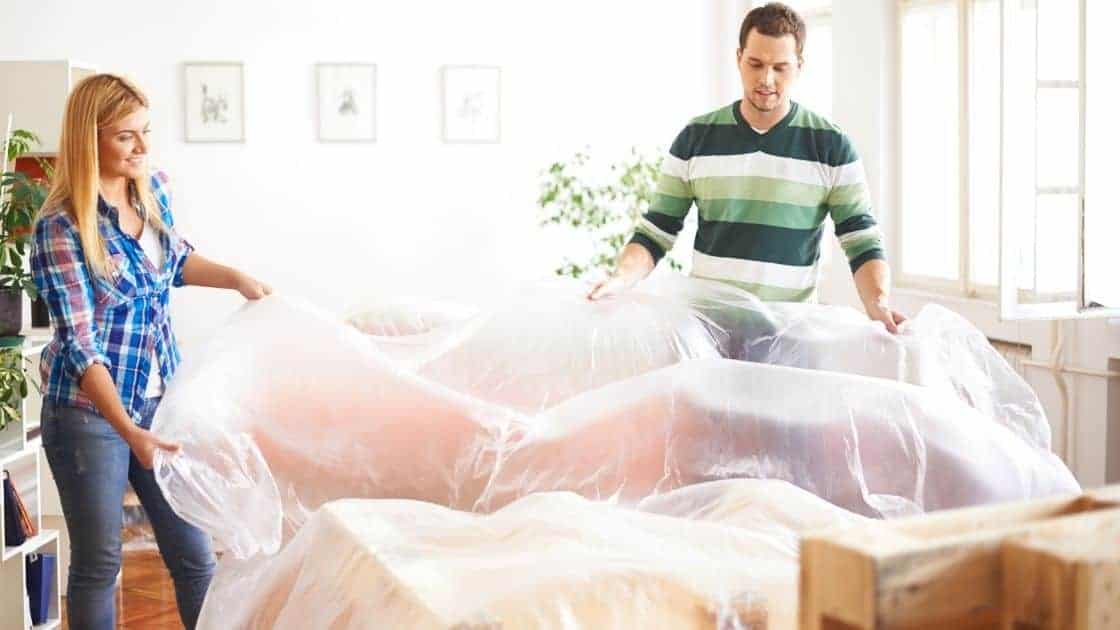 #2 – Use individual covers to protect your patio furniture
If you can't bring your outdoor furniture inside, why not invest in some patio furniture covers? You can find them anywhere and there are different kinds of prices – so you can choose what's best for your furniture and your finances.
But make sure to check your covers regularly, to ensure they are fitting on your patio furniture throughout the whole winter season. Don't forget to brush off the ice and snow when it builds up. If you are looking for an even less expensive method, go to number 3.
P.s: Some high-end furniture manufacturers create custom-made outdoor covers for their pieces. You can look it up at your supplier's site or shop.
#3 – Cover outdoor furniture with tarps
Tarps are a less expensive option than covers for protecting outdoor furniture. You can find them online or at a local hardware store. Make sure to choose the right size, depending on the size of your patio furniture.
Be careful: You must leave some ventilation underneath the furniture to prevent it from mold and mildew.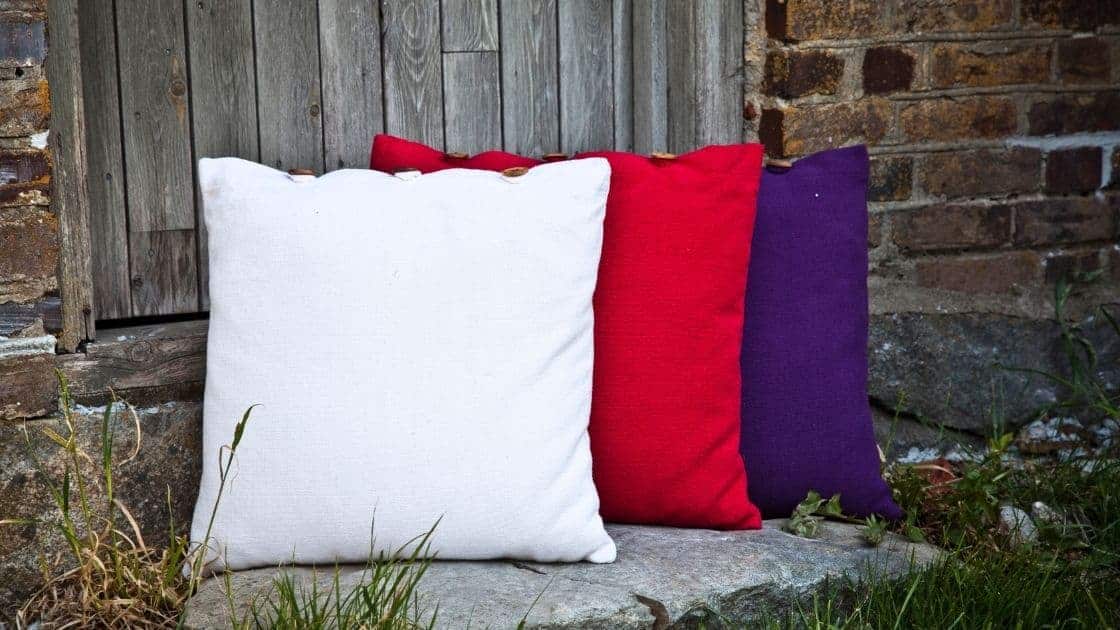 #4 – Bring in the cushions and leave the frame
Depending on the material of the furniture, you can leave the frames outdoor even in the winter, but the cushions, however, will have to stay in.
If the cushion covers are removable, make sure to clean them by following the recommendations on the tag. After making sure the cushions are 100% dry, go on and pack them. You can put them in boxes or plastic bags.
#5 – Speaking of cushions: Select fabrics designed especially for the outdoors
Just like the furniture itself, a lot of outdoor pillows and upholstery are exposed to sunlight and/or snow. If you want to prolong the life of these outdoor cushions, make sure to buy the ones designed for outdoor use. These kinds of fabrics are more UV resistant, mold-resistant, water-resistant, and stain-resistant.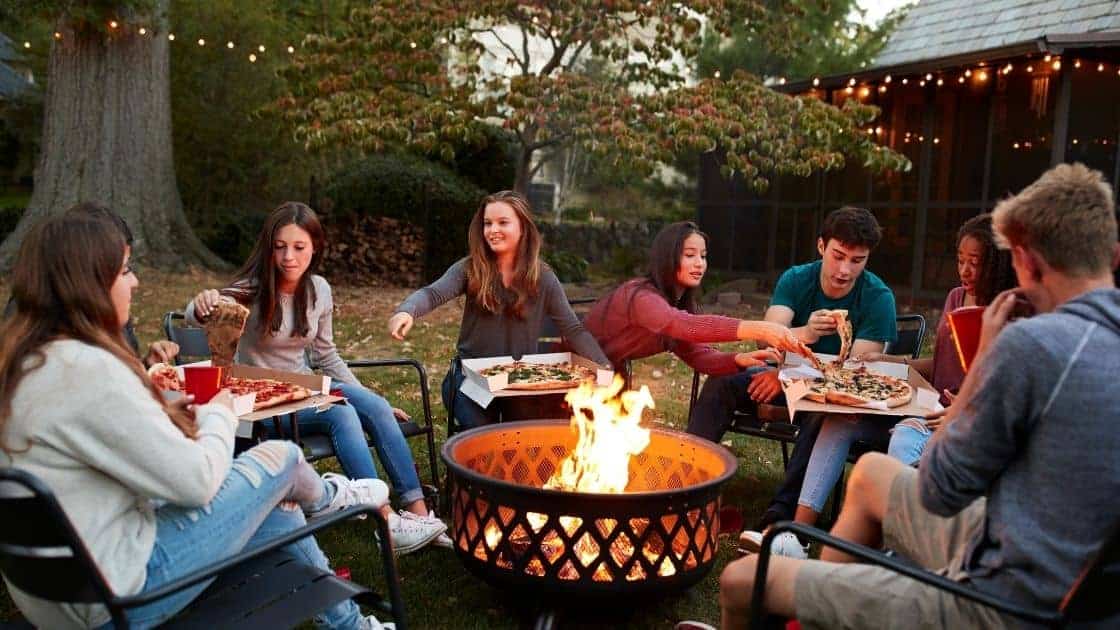 #6 – Now let's become romantic and also useful at the same time: A fire pit!
Investing in a fire pit might be one of the best decisions for your home. Just imagine the warmth you are going to get during the cooler, darker,  and freezing months. Not only you will have a reason to go outside more, but you will also use your outdoor furniture more.
If you are the environmentalist type (we are proud of you by the way), you can look for some smoke-free designs. This way you get light and warmth without polluting the air that much. It's a win-win, right?!
#7 – See where you are positioning your furniture
Try to make use of all your spaces. For example, indoor-outdoor spaces like breezeways are another fantastic way to make use of your patio furniture during the entire year. Or you can try and position them in places where the snow doesn't get that much, for example: Under a sun umbrella, under some trees, etc.
#8 – What about location?
Have you thought of moving your furniture closer to home? If your patio furniture, for example, is across the yard, why not try moving it closer to the house for the winter season? You'll see that you will take care of it better and even end up using it more often. Having something that keeps the place warm too will make the stay even better. This sends us back to tip number #6, a fire pit!
#9 – Last but not least: Don't forget to clean it up
This is probably one of the most important tips you have to remember if you want to have long-lasting patio furniture.
Any type of mud, dirt, snow, or food left on the furniture – can turn into mold or mildew. Of course, the probability for that to happen depends on the type of material. However, regardless of the material, cleaning remains particularly important!
You might want to use steel wool, silicone sealant, etc. – For more detailed products, you'll have to talk to the seller of the furniture.
Some last words
To conclude, you need to know that patio furniture sets can be awfully expensive. Buying them, and then not taking care of them properly, will just cost you more money. And we don't want that, do we?