If you're here, we already have a bond as we have something in common: We both have (and probably love, at least I know I do) outdoors wood furniture. There's something vintage, classy, and yet so modern about it.
However, having wood furniture, especially outdoors, might be a "full-time job" and "very time-consuming" – as a Gen Z TikToker would say nowadays.

So, how do you weatherproof outdoor wood furniture?
There are many factors which influence how resistant outdoors furniture is.  But the first question you should be asking yourself is:
What protection treatment should I choose for my outdoors furniture? Water-based or oil-based?
We recommend oil-based products because they prevent not only UV exposure, but also water, humidity and dirt from ruining your furniture. Even if it takes a bit longer to dry, the furniture will look more even and aesthetic in the end. Other reasons why you should go for the oil-based product include:
Besides keeping the furniture "young and pretty" the oil that soaks in the wood, makes the furniture more flexible, so it does not crack when it moves or expands, making that annoying noise we all hate.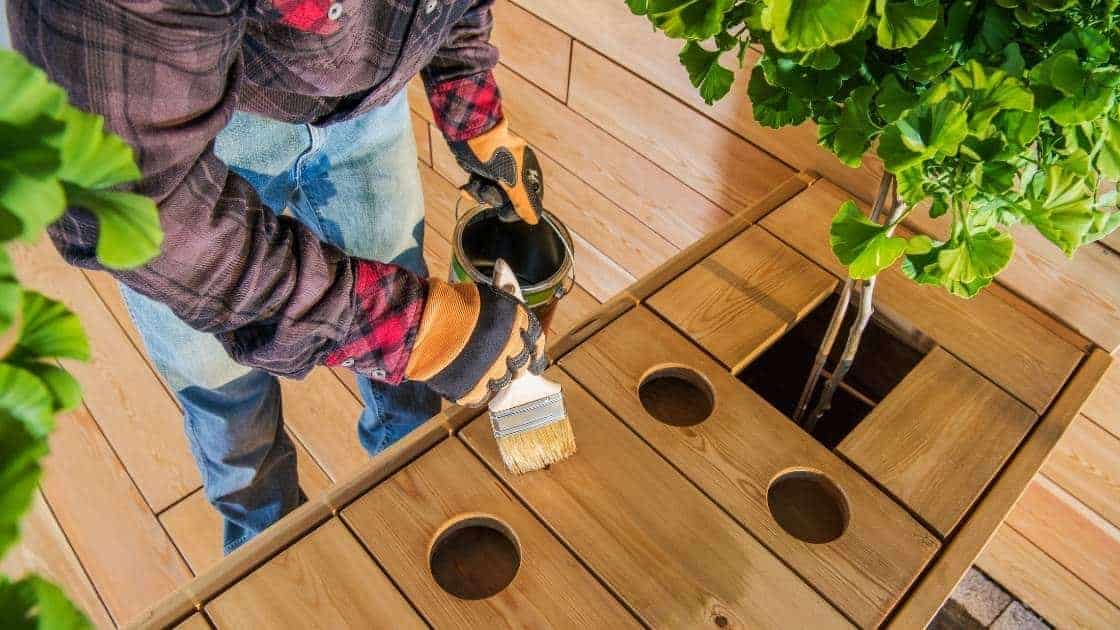 Oiling your furniture will prevent it  from losing its colors.
Not only that, but oil will also make them look even better, as it darkens the tones of wood a bit and makes it seem like it has recently come out of a special SPA treatment.
Oiling wood is an ancient method, which has been done for hundreds of years, it is a well-tested method, so you won't be experimenting with your furniture.
Okay, the first dilemma is solved. Great!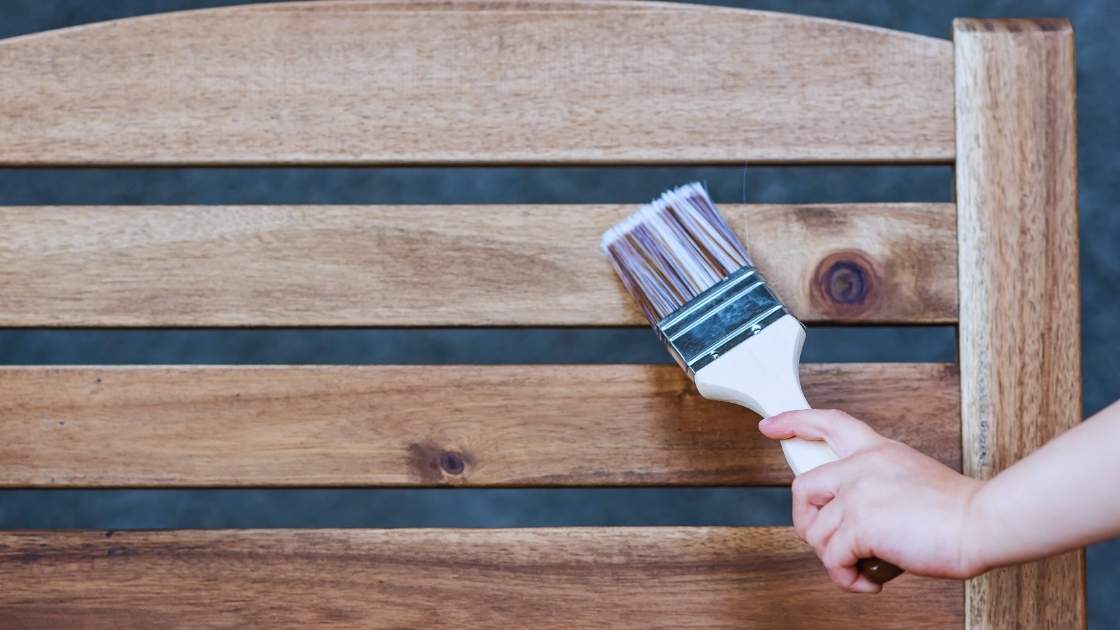 Now, you are probably asking yourself: What type of oil works best?
After doing detailed research, we've concluded that the best oils to treat your wooden furniture are:
#1 – Teak Oil
This wood oil protects for a long time and prevents the furniture from any kind of natural damage, by penetrating deeply into the wood pores. Besides that, it enhances the natural color of the furniture, making it look more expensive or as if you just bought it from the store.
#2 – Tung Oil
Another great oil would be tung oil, as it is resistant to water, food, or alcohol – the top three things you might find the most in a garden dining table. Similar to teak oil, tung oil adds a lovely tone to the furniture.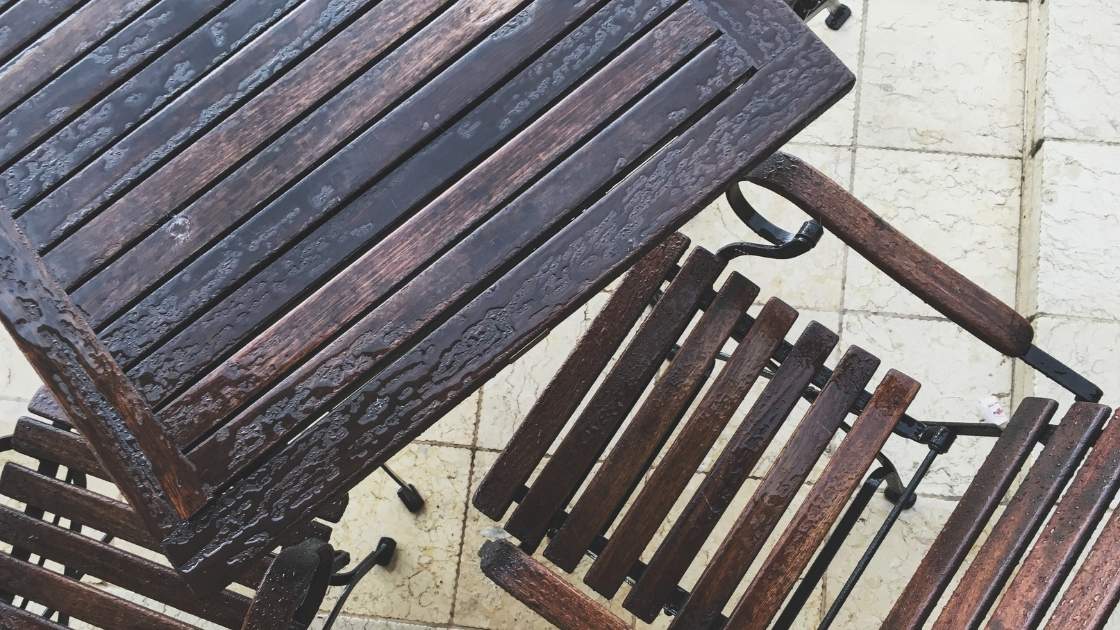 If we'd have to pick one, what would we choose?
Well, keeping in mind that tung oil takes a bit longer to dry, we would probably select teak oil, but maybe you're not as impatient as us (lucky you).
A type of oil you shouldn't be using
We highly recommend not to use linseed oil! It does not provide any of the benefits mentioned for teak and tung oil and it will certainly damage your outdoors furniture.
Okay, enough with the oils!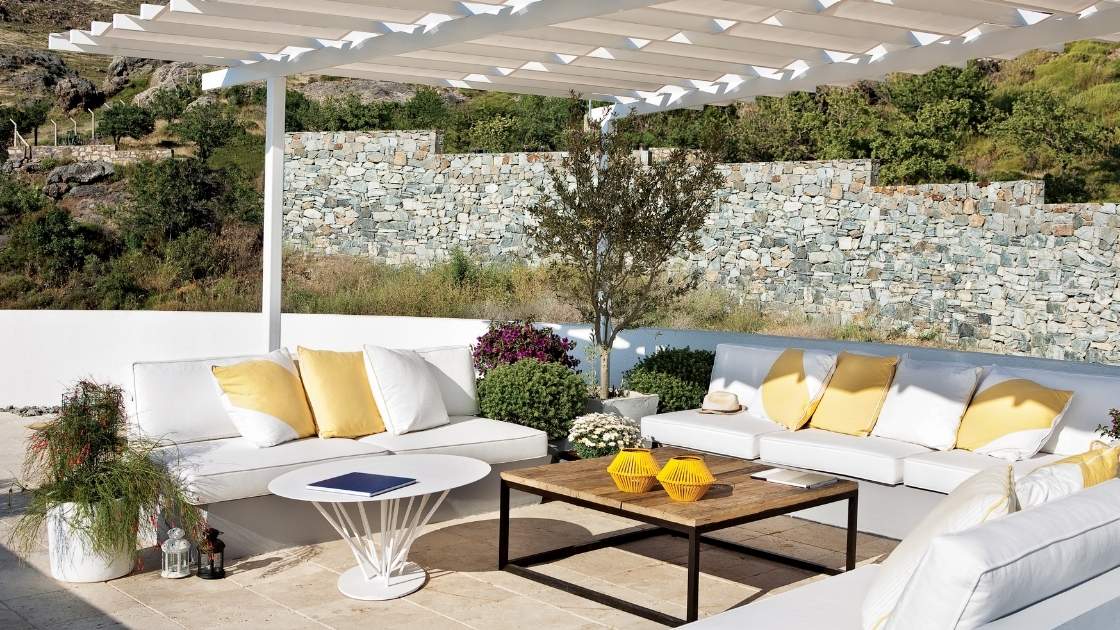 What else can we do to keep our outdoor wooden furniture nice and pretty?
Besides oils, there are some other tips you should keep in mind, to have long-lasting beautiful wooden furniture:
When not in use for long periods, or when the summer is over, keep the furniture indoors or invest in furniture covers.
Be aware of your country's climate. For example, if it's usually rainy where you live, you might want to focus on products that offer good moisture resistance. Or, if you live in a mostly sunny place, you'll have to concentrate more on UV protection.
If possible, keeping your furniture in the shade will reduce the sunlight exposure time.
Another idea would be to rearrange your outside furniture based on the sun's position.
Choosing the right furniture is also very important. Quality furniture will eventually last longer than others.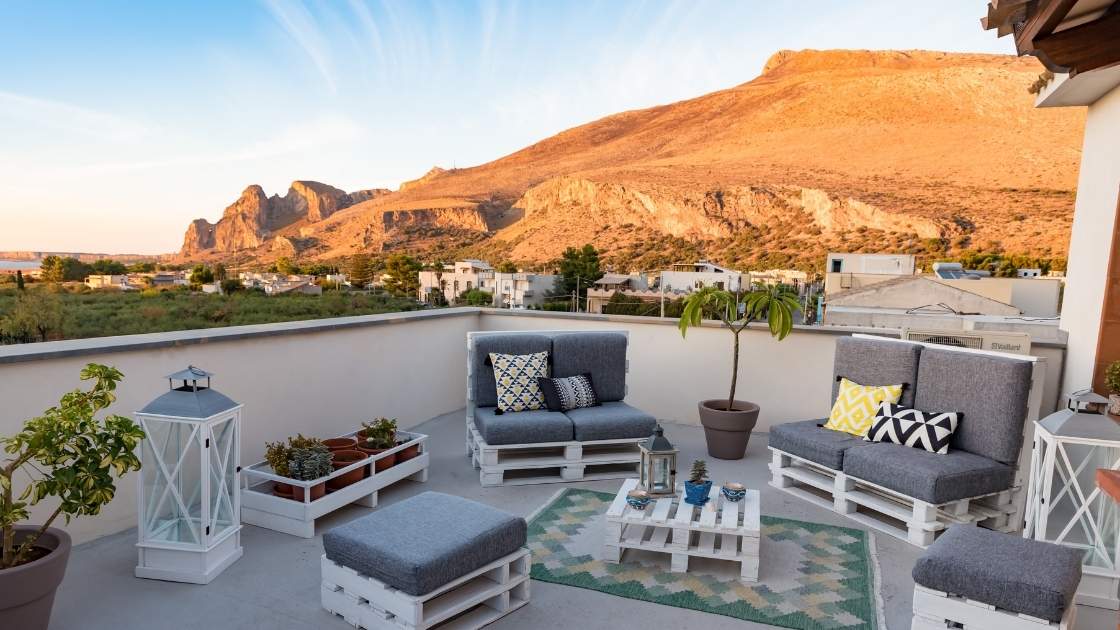 Besides the wood protectors that we mentioned during the whole article, wood preservers are also very important: They prevent the conditions that can cause the degradation and disintegration of wood over time. Using wood preservers protects the pieces of furniture from mold, fungi, and wood insects. Awesome, right?
How do you prevent sun damage on outdoor furniture?
If you live in a very sunny state, then your question is probably more specific. So, which are the best ways to protect your outdoors furniture from sun damage?
If you haven't thought about this, then it's okay. We are here to remind you that the sun, as good as it is, can still make some significant damage, not only to your skin, but to your furniture aswell.
Don't worry. We got your back. Besides following the previous tips we mentioned, you should read carefully these other tips, focused on preventing sun damage on your patio furniture:
Try to avoid furniture that is made of plastic. Plastic can get damaged easily in sunny places. Therefore, you will have to invest in furniture that blocks UV rays. How is that possible? Through the paint that the furniture has.
Consider getting cushions that are UV-resistant. Try buying cushions, made of materials that don't fade easily.
Invest in after-care products for your cushions and furniture. For example, sprays that will protect your patio furniture from sun damage.
If you decide to use these sprays, make sure that the cushions are dry and clean and keep the products away from children.
Have you tried rotating your pillows? Some of your cushions might get more UV rays than others. As a result, half of your outdoor space will be colorful, while the other not so much. To prevent this from happening, move your cushions and pillows around your patio. This way they will all be exposed kind of equally to sun and shade.
You probably won't be outside as much during the cold months, so you can further reduce the UV rays exposure to your cushions, by storing them in a shed, garage, or weatherproof box.
The point of patio furniture is to enjoy it, even on the sunniest and hottest days. We suggest that you invest in a canopy or a retractable awning. This will bring some coolness (both in temperature and swag) to your patio furniture. If you don't prefer any of that, you can just look for an outdoor umbrella. The important thing is that shading your patio furniture will prevent it from sun damage, but will also make it look prettier!
Inspect your furniture at least 2-3 times a year carefully and look for things that might need adjustment or rearrangement.