If you have a house near the beach or oceanside, or if you're at least thinking of buying one – consider yourself a very lucky person. Just think about it: It's a sunny day with a glimpse of wind, and you're having a coffee or an iced tea in the yard while being sunkissed. You're listening to the waves of the sea as you're waiting for the sun to set and everything seems so peaceful, perfect.
Well, almost perfect. Do you have the right coastal outdoor furniture? Why don't we find out?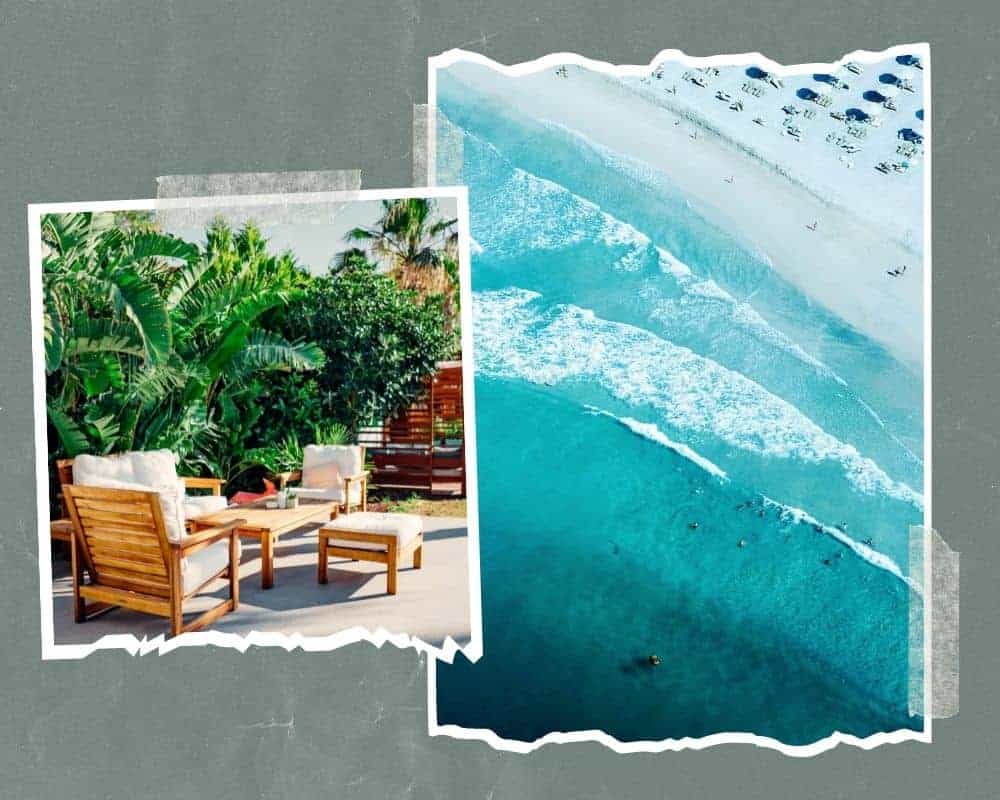 Oceanic Climate can easily damage your outdoor furniture
Even though seaside environments are beautiful, they can be harsh to your outside furniture. You have to keep in mind that the best beach furniture resists humidity, salt, wind, sand, and moisture.
Your pieces of furniture should be heavy enough to not be moved by the wind, but also light enough so that you can move them around as you want.
When choosing your patio furniture for a beach house, you should consider the main climate conditions of the place you're staying. When looking for beach-friendly furniture, keep in mind that there are some climate conditions like humidity, sand, moisture, sun exposure, wind, intense storms, salt spray, etc., that almost every beach house deals with.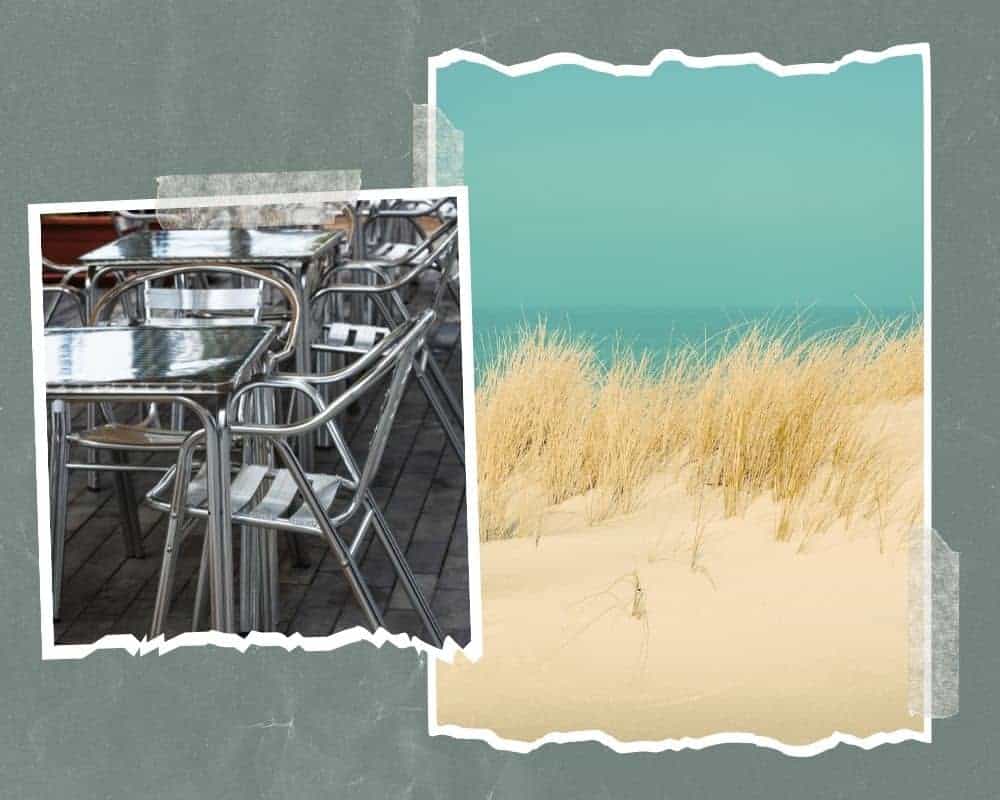 Which are the best outdoor furniture materials to withstand the sun, the salt, the wind, and everything mentioned above?
The absolute best outdoor furniture for seaside or ocean side houses is cast aluminum, as it is extremely resistant to humidity and rust.
Take a look at what we've found and why, aluminum is one of the best choices, among other great choices which can also be a perfect fit for your oceanfront patio: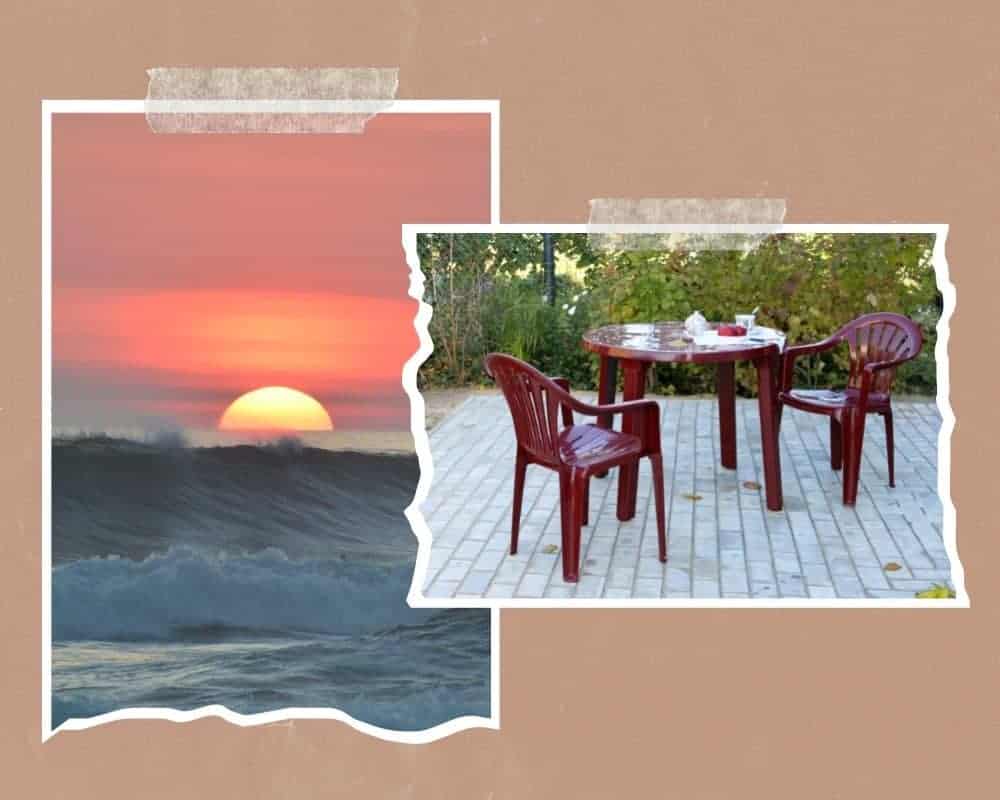 Plastic
If you are looking for a cheap choice, plastic might be a good option for you. However, the type of plastic you use will determine whether the furniture will last long or not.
We recommend choosing a plastic called HDPE (which stands for High-Density Polyethylene). This plastic not only is eco-friendly but will also resist all types of weather.
Another plastic we highly recommend would also be Polywood. In case you haven't heard of it, it is a recycled plastic that will last a lifetime as your patio furniture. Polywood is a bit heavier than other types of plastics, so consider it if you live in a windy place.
On the other hand, we do not recommend cheap plastics that crack fast or fade quickly, unless you want them to last for only a summer season.
Another advantage of plastic outdoor furniture is that it can be very easy to clean and even easier to store somewhere.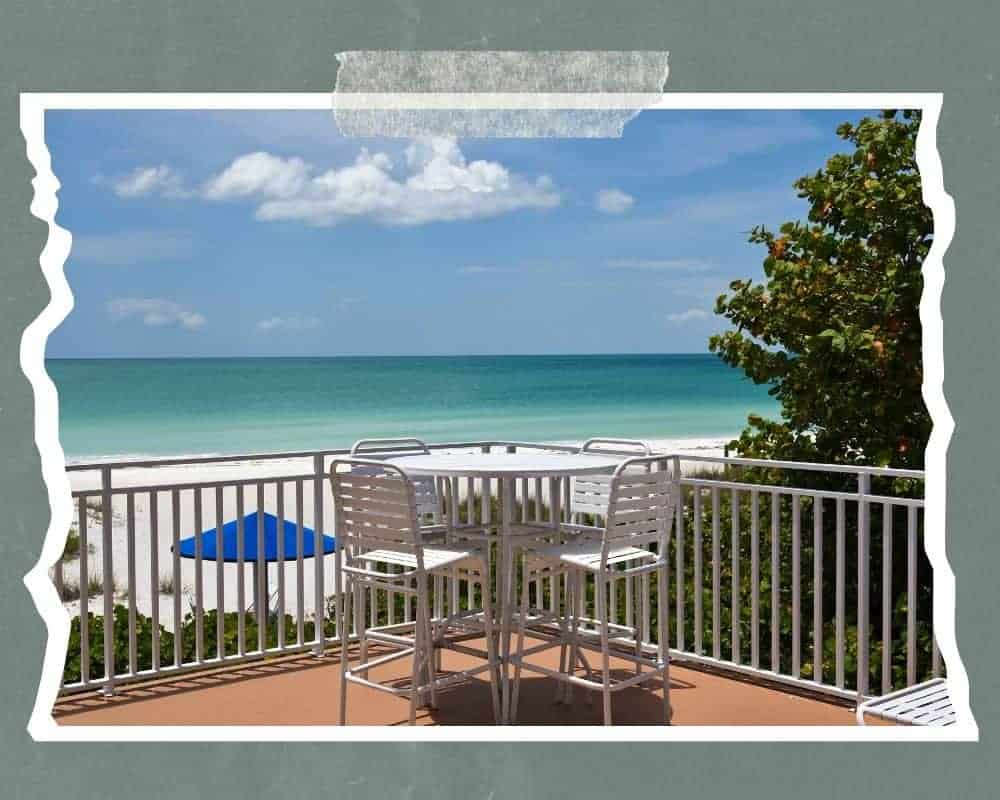 Cast Aluminum, Our Numer One Choice
We already said that cast aluminum is our number one choice, but aluminum, in general, is also a fantastic choice for your outdoor furniture.
Unlike steel, aluminum does not rust over time when exposed to salt. This quality makes it a long-lasting material that you will love.
Aluminum makes heavy furniture, so consider it if you leave in a windy beach house.
However, we haven't told you yet its best quality. Aluminum is safe against the sun from both fade and heat.
Cast aluminum does not heat up as much as other metals though, which is important if you don't want to burn your skin from sitting on your furniture. Who wants that?
This furniture is also easy to clean, store and move.
Are there any disadvantages? The only one we can think of might be its price, but this depends on your financial budget.
Wood
Although it is a good choice, wood furniture can be tricky. Make sure you choose the right type of patio furniture and that the wood is water-resistant because you don't want the salt water to seep into the wood furniture. Believe us on that!
Is there any type of wood that is better than the others?
The best wood option you could use would be teak wood. This is a durable material that resists sunlight and does not get damaged easily. It resists rain, moisture, sand, and salty air. Highly recommend!
Wrought Iron
Another popular choice for outdoor furniture, also the heaviest one, is wrought iron. However, wrought iron can rust when exposed to a lot of moisture, and it can become incredibly hot when exposed to the sun (just like any other metal).
One advantage of it is the fact that you can get rid of the sand and filth very simply. The cleaning process is usually easy and does not take a lot of time. To restore it to a new condition, simply wipe it down with a moist cloth
Other materials
Although numerous different materials can withstand the harsh shoreline weathering, cast aluminum remains the best option in our opinion. Numerous metals having cracks in their exterior coats will quickly rust. Try to use a metal that does not rust, such as cast aluminum, if you are choosing one.
To stop rust damage, you should properly coat any metal that has chipped.
Other metals may not be very popular choices for building furniture but you can still find some options if you have set your mind. See, for example, a material called galvanized steel – A method where the steel is hot-dipped in a thin layer of zinc. This way it prevents rusting and oxidation, making the furniture last longer.
We have decided to answer some questions you are probably thinking about because even though the material of the items of furniture is important, that is not the only thing that matters. So, here we go, with two basic questions: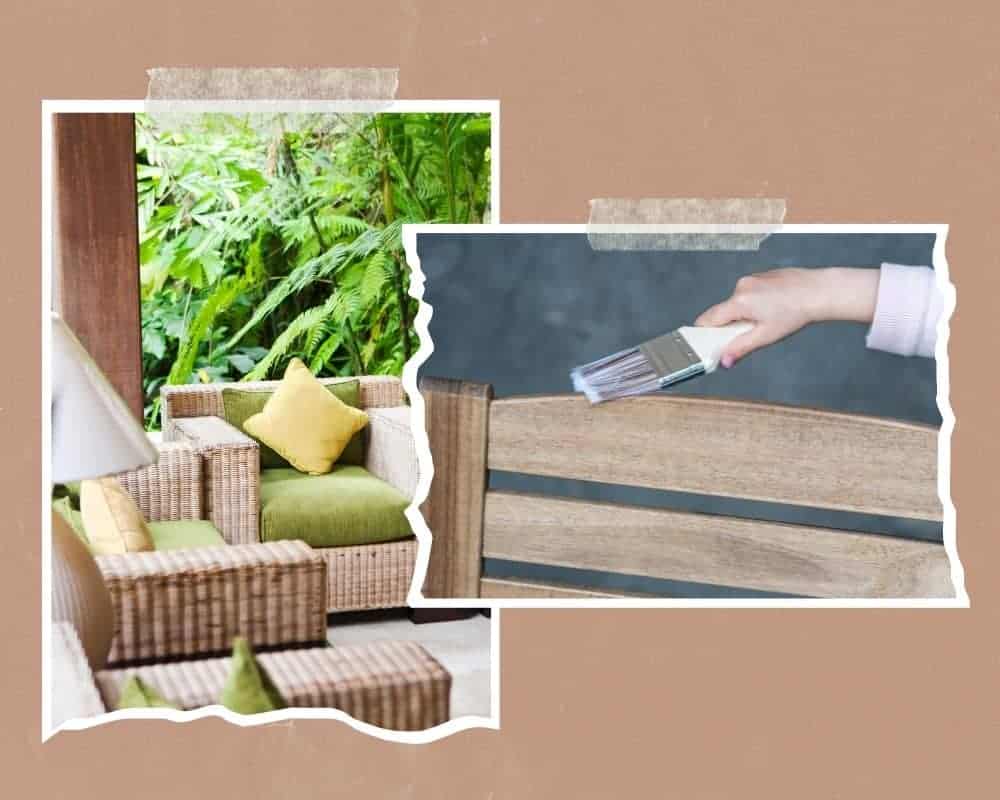 First, how will you protect your beach furniture in general?
When the weather turns bad, you may keep your beach furniture safe by putting it in a shed or under a covered porch. As an alternative, each component can be protected from the weather with weatherproof covers. Furniture can endure longer if it is kept in a shaded area and is periodically cleaned of salt, sand, dirt, and everything we mentioned previously.
Secondly, how will you protect your patio furniture from water/ wetness/ moisture?
Place your patio furniture far enough away from the water's edge to keep out of the way of waves and tidal surges. As soon as your furniture becomes wet, quickly dry it with a towel. Place the furniture in a covered area to keep it out of the weather, and when not in use, store it in a dry location. Apply a sealer to the surfaces for additional protection to keep moisture and humidity out.
Now, let's assume you have pieces of furniture with the materials mentioned below.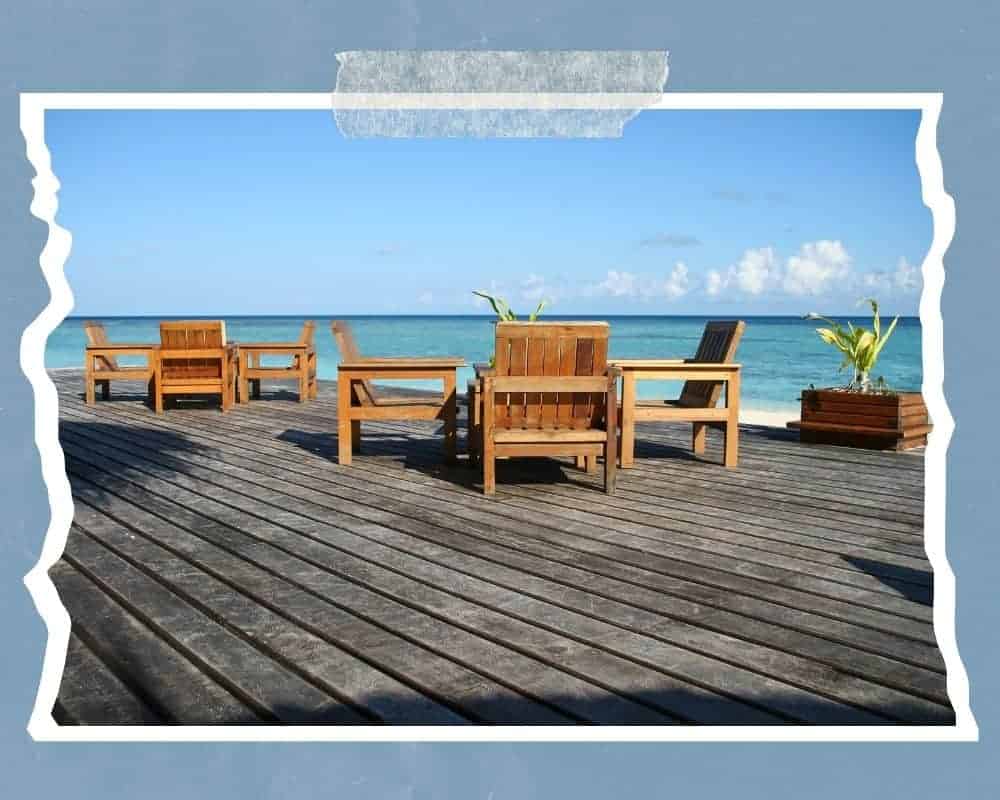 Learn how to make your beach house or oceanside furniture last longer, based on its material:
As we already mentioned, weatherproofing and correct coverings and storage will extend the longevity of your outdoor furniture.
Depending on the material, there are several methods for protecting furniture. Covering your garden and outdoor furniture is a fantastic idea if you only use your beach house during the summer months to protect them from the harsh winter weather.
If your furniture is foldable or convenient to store, you can purchase ready-made plastic covers for patio sets, or you can store it away for the year. Before storing furniture, it should always be completely dry.
If not treated, all wood types of furniture will deteriorate. This would be a nice appearance with hardwoods. However, if you want to keep the deep color or protect softwood from the sun, water, and mildew, you need to use one of the following precautions:
Oil the wood with a suitable wood oil
Apply a water-repellent preservative to the wood, preferably one that includes a mildewcide.
Paint the wood and cover with a layer of marine varnish
After removing any excess paint and rust from metal furniture, you can restore it by:
Priming the metal with a fish-oil-based primer that prevents rust
Painting the metal
New, rust-free furniture will only need to be painted
Black paint will last longer in sunny areas
Treating the metal with a UV-resistant metal spray
Storing or covering your metal furniture away when not in use
Even though plastic outdoor furniture isn't ideal, the following advice can help you extend its life:
When not in use, stack and cover plastic furniture to prevent sand and salt from abrading the surface
Use auto wax to protect the plastic from sun damage
We wish you have a great summer and that you fill that yard in your beach house full of memories, good times, and "healthy" furniture!