Wondering about outdoor furniture that can be left outside? Read on.
If you want to enjoy your outdoor furniture year-round, there are a few things you need to consider.
For example, depending on the climate where you live and or store it, investing in outdoor furniture that can be left outside year-round can be beneficial.
Not only do these items make it easier to keep your furnishings protected from the elements but they also make cleaning easier.
Outdoor furniture that can be left outside year-round is an attractive option for homeowners who want to take advantage of the great outdoors, but don't want to worry about damaging the furniture or damaging their yard.
Furniture that can be left outside should be made from materials that are not only strong enough to withstand harsh weather conditions but also resistant to water and chemicals, such as mildew.
One of the most important things to consider when choosing outdoor furniture is if it's weatherproof.
There are several different types of weatherproofing, but they all have one thing in common: they keep water out.
If your furniture has a fabric covering like vinyl or polyester, then you won't have any issues with moisture getting inside and ruining your investment.
Another important aspect of picking outdoor furniture that can be left outside is considering what kind of material it's made from.
With this in mind, let's have a look at outdoor furniture that you can leave outside.
5 Types of outdoor furniture that you can leave outside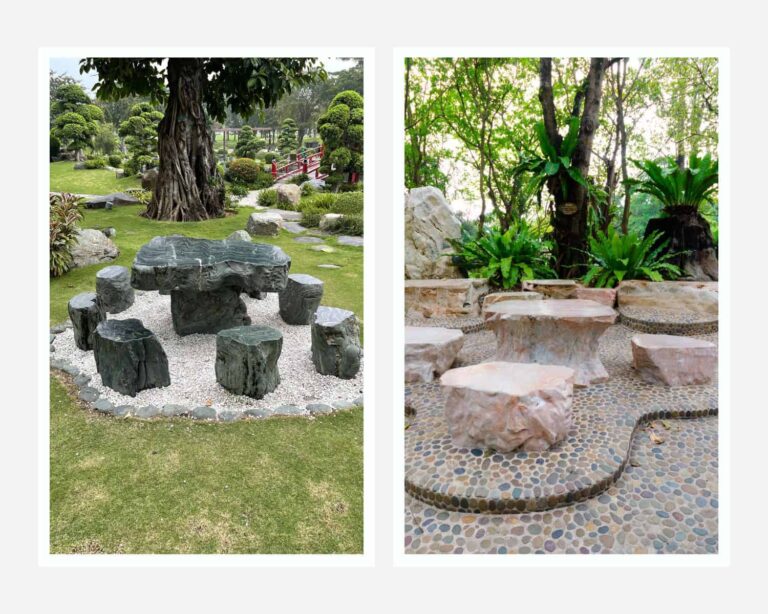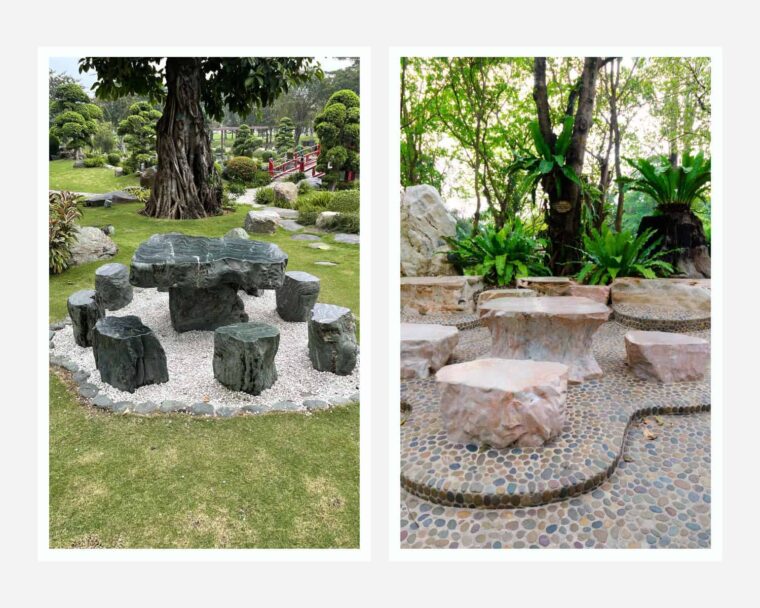 Pin
Stone/concrete outdoor furniture
Many people love stone furniture for its beautiful look and feel, but it's also great for outdoor use because it's still durable and long-lasting.
You can easily find patio tables and chairs made from stone, so you don't have to worry about them breaking down or warping over time.
You can choose from a variety of styles, including modern, rustic, traditional, and more.
Stone furniture is suitable for outdoor use because it does not require much maintenance.
The material is durable and can withstand the elements for years to come.
Stone furniture can be left outside since it can withstand any type of weather.
This type of furniture is very resistant to the elements and is easy to maintain. There are many types of stone that you can choose from, but one of the most popular ones is granite.
However, you should know that different stones react differently to weather changes.
Although all-natural stone outdoor furniture is not too common, it is known to degrade slowly even if it is subjected to extreme weather conditions.
Outdoor furniture made of natural or concrete stone can be left outside in the rain and in winter.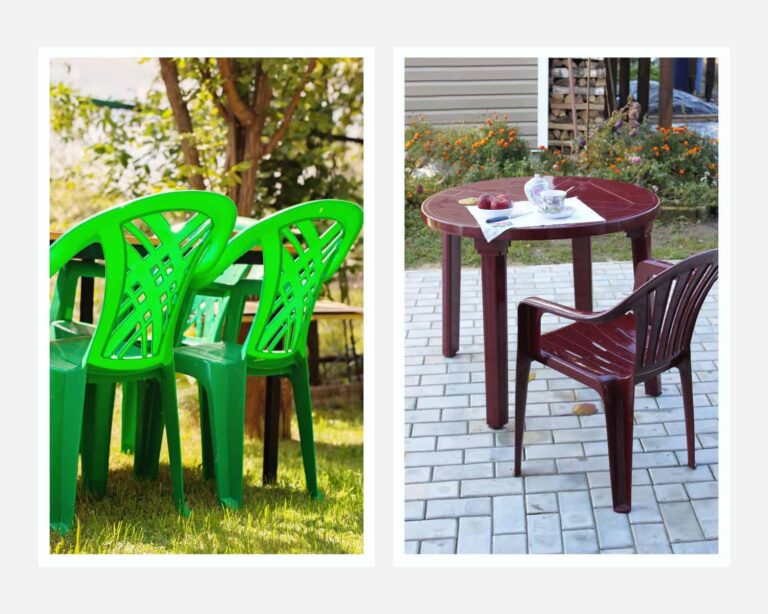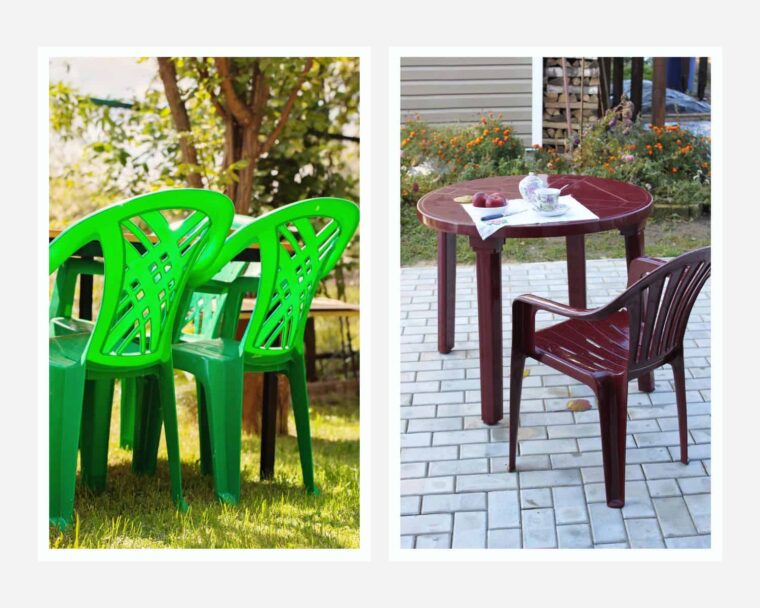 Pin
Plastic outdoor furniture
Plastic is a great choice for garden furniture that needs to be outside for a long period of time.
With some care, it can be left outside year-round without worrying about corrosion, rot, or insect damage.
The plastic material is durable and can be used outdoors in all kinds of weather conditions.
It's also easy to clean and won't rust or rot away, so you can use it for many years without worrying about damage to your home.
The main limitation with plastic outdoor furniture is that it doesn't have the same durability as metal or wooden furniture, so it may not last as long without being repaired or replaced.
If you want something that will last several years, then this type of furniture might not be right for you because it might not last as long as other types of furniture.
Plastic is affected by UV rays and tends to fade when exposed to the sun.
It is advisable to cover up plastic outdoor furniture when not in use during summer.
This shouldn't make you shy away from purchasing plastic furniture if that's what you were going for.
You can just build a shade in your patio or backyard to protect your plastic outdoor furniture from harsh UV rays.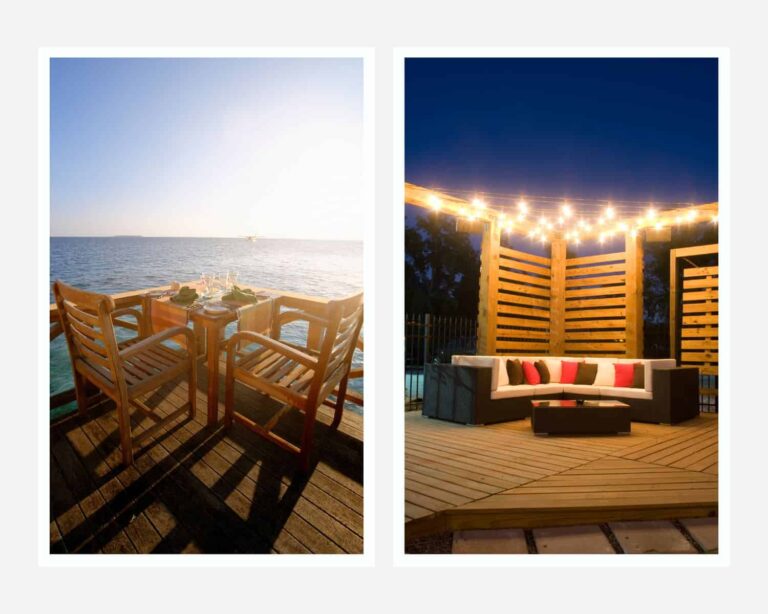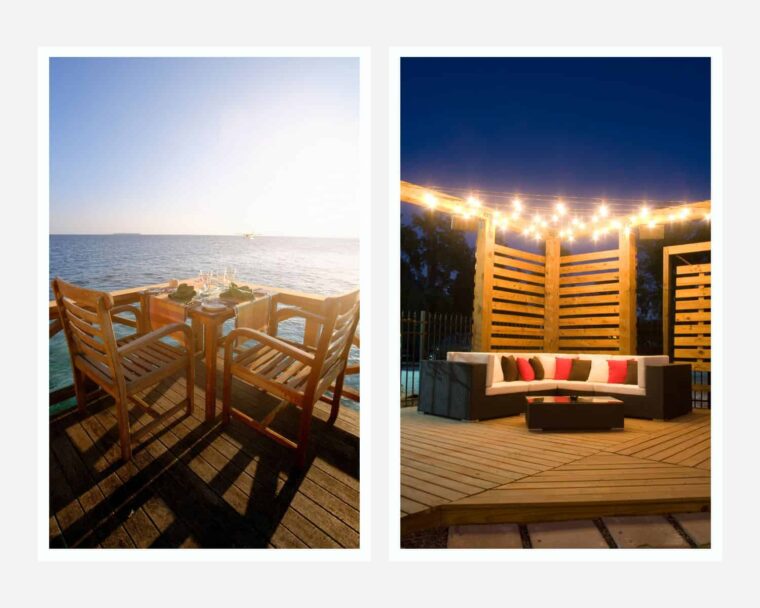 Pin
Treated wood furniture
Treated wood furniture is made from real wood that has been covered with a durable coating.
This coating protects the wood from moisture, dirt, graffiti, and other damage. It also keeps your furniture looking great for longer.
The most common treatment is oiling, which involves applying a coating to the surface of the wood.
Other methods include sealing and varnishing.
Each of these treatments comes with its own set of benefits and drawbacks that you should consider before making your decision.
Treated wood is one of the most popular materials for outdoor furniture.
This is because treated wood can withstand exposure to the elements, including rain and snow.
You can get treated wood furniture from outdoor furniture companies and it will often come with a warranty.
This means that if the wood ever starts to rot or crack, the company will replace it or offer you an amicable solution.
It's also important to note that treated wood furniture can be left outside in all seasons, so even if you live in a region where the winter is harsh or the summer is hot, you won't have to worry about damaging your outdoor furniture.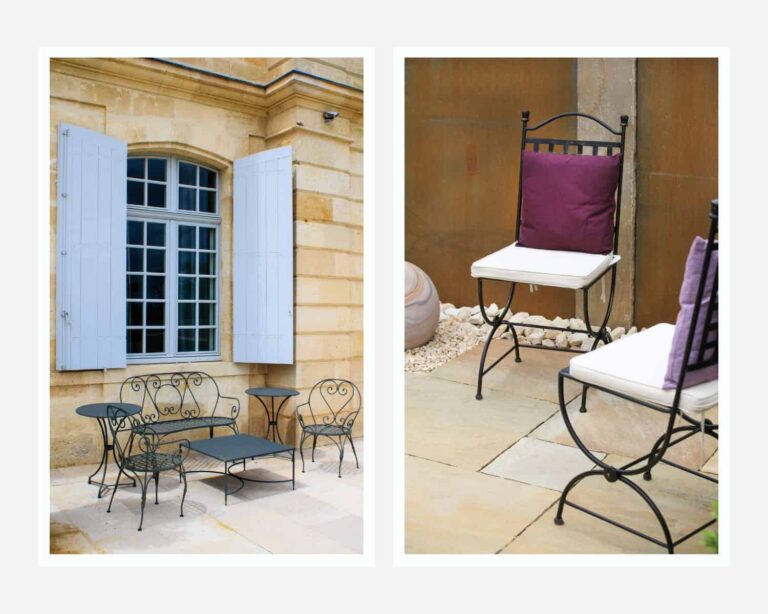 Pin
Aluminum outdoor furniture
Aluminum outdoor furniture is a great choice for people who live in areas where rain and snow are common.
It is lightweight, durable, and resists rust and corrosion.
Aluminum outdoor furniture can be left outside during the summer months, but it should be covered with a tarp or other protective cover to prevent damage from the sun and rain.
Aluminum outdoor furniture comes in many different styles and colors.
You can choose from traditional wood-style patio sets or more modern styles that feature curved shapes instead of straight lines.
Aluminum is also very durable, which means it can last for years.
It's easy to maintain and clean, too.
Furthermore, it can withstand harsh weather because it won't rust or corrode as most materials do.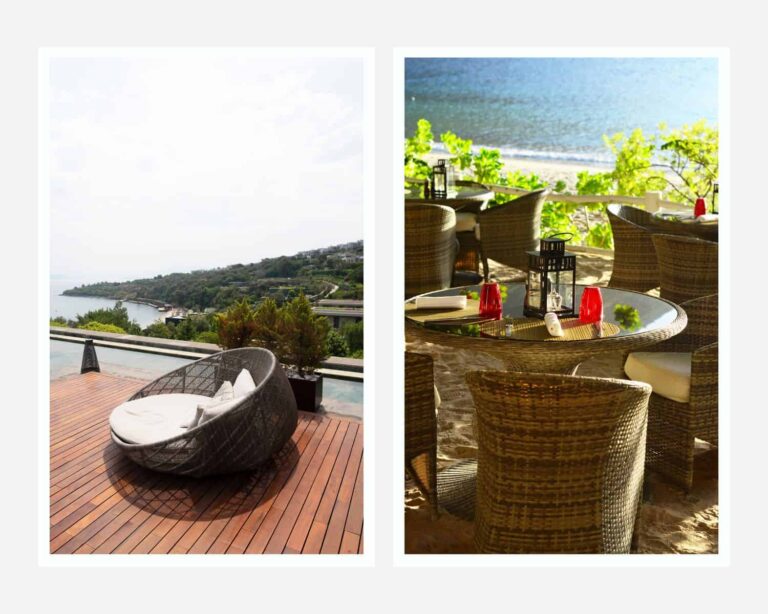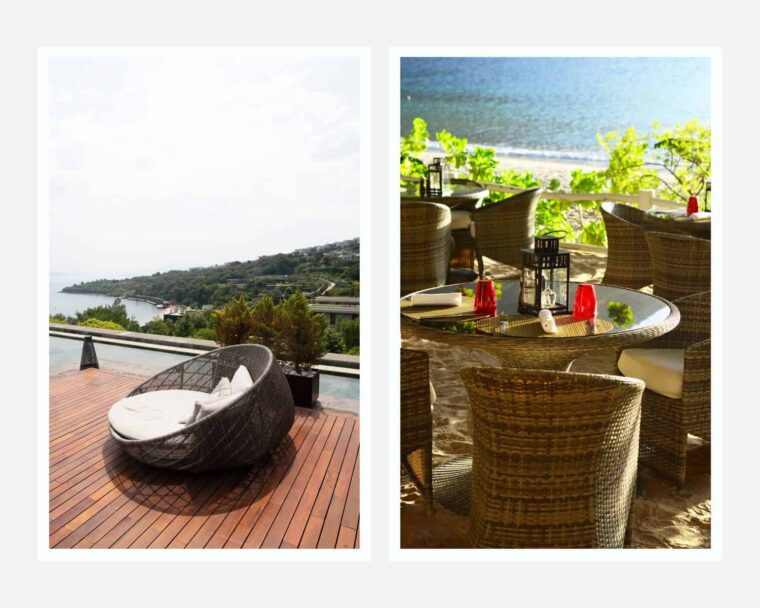 Pin
Synthetic rattan outdoor furniture
Synthetic rattan furniture is a kind of modern outdoor furniture.
It is made of the material of rattan, but it is not real rattan.
Synthetic rattan outdoor furniture is a popular choice for indoor and outdoor use.
It is also often referred to as artificial rattan or plastic rattan.
It's made from a durable material that will last for years to come, and it looks beautiful in any environment.
Synthetic rattan outdoor furniture comes in many different styles, so you can find the one that suits your needs best.
Synthetic rattan outdoor furniture is made from man-made materials that have been used for decades by manufacturers all over the world.
The result is a material that is stronger than wood, yet still lightweight enough to be comfortable for hours on end without getting sore or hot.
You might be tempted to buy natural rattan since it looks more attractive, but if you are going for outdoor furniture that can withstand extreme weather, synthetic rattan is ideal for you.
Conclusion
If you are thinking about getting outdoor furniture for your patio or garden, you will want to make sure that it can withstand hard weather and the test of time.
But not all furniture is built equally.
The key to finding solid and sturdy outdoor furniture is checking the materials that the furniture is made from and their durability.
Overall, no material is tough enough not to get affected by extreme weather changes at all.
This is why it is important to cover up your outdoor furniture every now and then when the weather is extreme, especially in winter.
This precaution will keep your outdoor furniture protected and overall give it durability.
We hope this article has helped you in answering the question of outdoor furniture that can be left outside.