Many people want to use wooden furniture outside, but they are unsure of how to take care of it.
Wood is a natural material, and that can make it vulnerable to damage caused by moisture and prolonged exposure to the sun.
Using natural weatherproofing methods is a great technique to help keep your outdoor wooden furniture protected from the elements.
Water and heat can both have negative effects on the durability of wooden furniture.
There are several different options you can use to waterproof outdoor furniture or patio furniture so that it lasts longer and helps maintain its natural beauty.
If you have been wanting to know how to waterproof outdoor wood furniture and make your porch look great, then this article is going to provide you with the answers.
Why should you Waterproof Outdoor Wood Furniture? 
Outdoor wood furniture can be a beautiful addition to your home's decor.
It provides an inviting place for family and friends to enjoy spending time together outside on warm summer evenings or relaxing in front of a cozy fire after a long day at work.
But without proper maintenance, the beauty of your outdoor wood furniture can quickly fade away due to extreme weather conditions.
Waterproofing your outdoor wood furniture is an important part of protecting it from damage caused by moisture, UV rays, insects, and frost.
It helps prevent wooden furniture from cracking and splitting when exposed to extreme heat or cold temperatures.
Wood needs to be sealed and maintained regularly in order to stay looking good and last many years.
Without sealing, your furniture will likely need to be replaced within a few years; if you seal and maintain it properly, though, it can last two decades or more.
Let's look at methods of waterproofing patio furniture.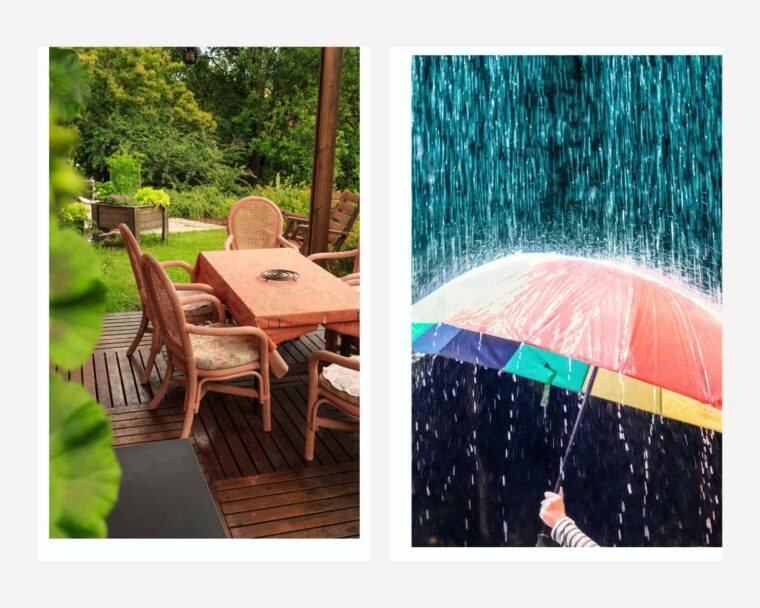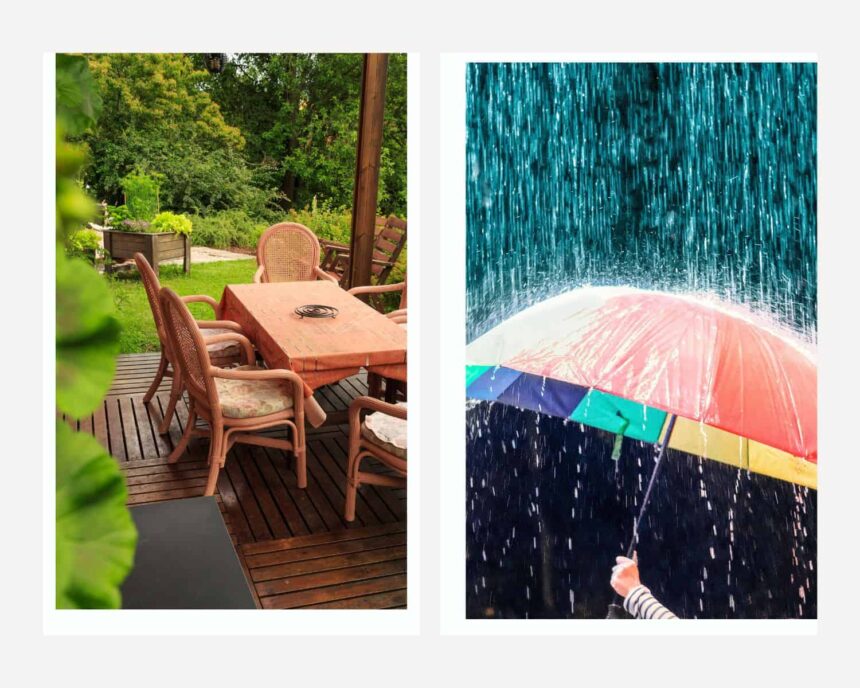 4 Methods of Waterproofing Outdoor Furniture
Waterproofing outdoor furniture can be a tricky task, but it's necessary if you want to protect your investment.
There are four main methods of waterproofing outdoor wood furniture:
Spar Urethane
Spar Urethane is a water-based urethane coating that can be applied to wood, metal, and other materials to provide weatherproofing and protection against stains, mold, and mildew.
It's easy to apply yourself with a brush or roller.
You can also apply it by pouring it over the surface of the wood and letting it dry naturally.
It can also be used on items such as picnic tables made out of wood, providing they don't have any cracks or splits in them already.
Cracks or splits could compromise their structural integrity and make them more prone to water damage over time.
The process is very easy and can be done by anyone with basic DIY skills.
The first step is to clean the wood thoroughly with soap and water, then let it dry completely before applying the spar urethane.
You can apply the urethane with a brush or roller depending on how big your project is and how much time you have available.
The whole job should take 2-3 hours if done properly, but you can make it as simple or complicated as you want by choosing different colors and patterns for your decking boards or slats of wood.
Natural Oils
The easiest way to waterproof your outdoor wooden furniture is to use natural oils to seal the wood.
This method won't last as long as some of the other options, but it's a good way to protect your furniture while you're waiting for something better to come along.
The most commonly used oils are teak oil, tung oil, and linseed oil.
Tung oil is a natural finishing product made from the nuts of the tung tree.
It is water-resistant and protects the wood against water damage, making it ideal for outdoor furniture.
Tung oil penetrates deep into the wood, so it doesn't wear off easily as other paints do.
You can also combine beeswax with linseed oil to make a more effective sealant for your outdoor wooden furniture.
This method works because beeswax has natural anti-fungal properties that help prevent mold growth on your deck or patio table tops, while linseed oil helps provide an effective barrier against moisture penetration into the wood grain itself.
Simply mix equal parts of each together and apply liberally over your outdoor wooden surfaces
The process is fairly simple: just apply a coat of tung oil, teak oil, or linseed oil and let it sit overnight before applying another layer.
Repeat this process until you have a nice finish on your wood that will keep it looking good for years to come.
Stain and Sealant Combination
This is one of the most popular methods used by people all over the world.
The reason behind its popularity is that it is cheap and easy to use.
You just need to apply a coat of stain on your wooden furniture, and then let it dry completely before applying another coat.
Repeat this process until you get the desired color on your furniture.
If you want to seal the wood after staining it, then apply a coat of clear varnish or lacquer to make sure that no moisture can seep through it.
Just like with the other waterproofing methods, the first thing you will need to do is clean your furniture thoroughly before applying the stain and sealant.
Once you have finished with the process, you can now let your newly waterproofed outdoor wooden furniture sit outside for as long as desired without worrying about damage from rain or other moisture sources found outdoors!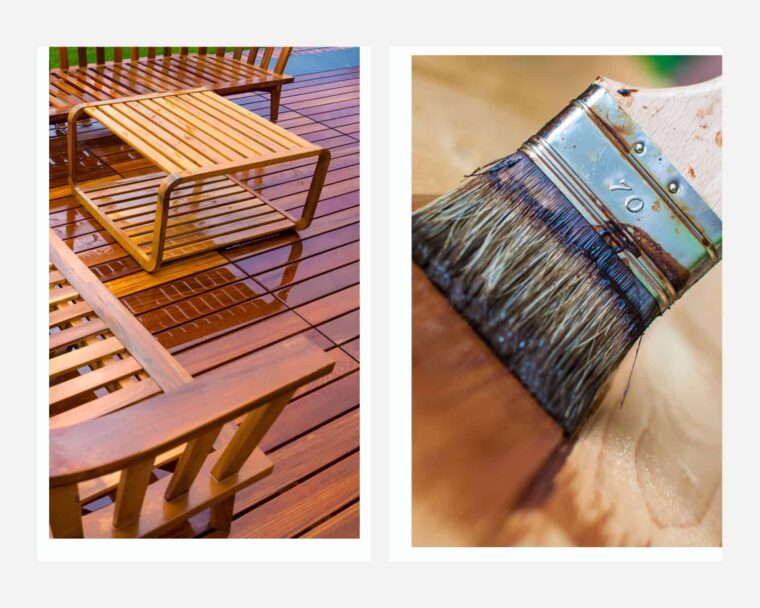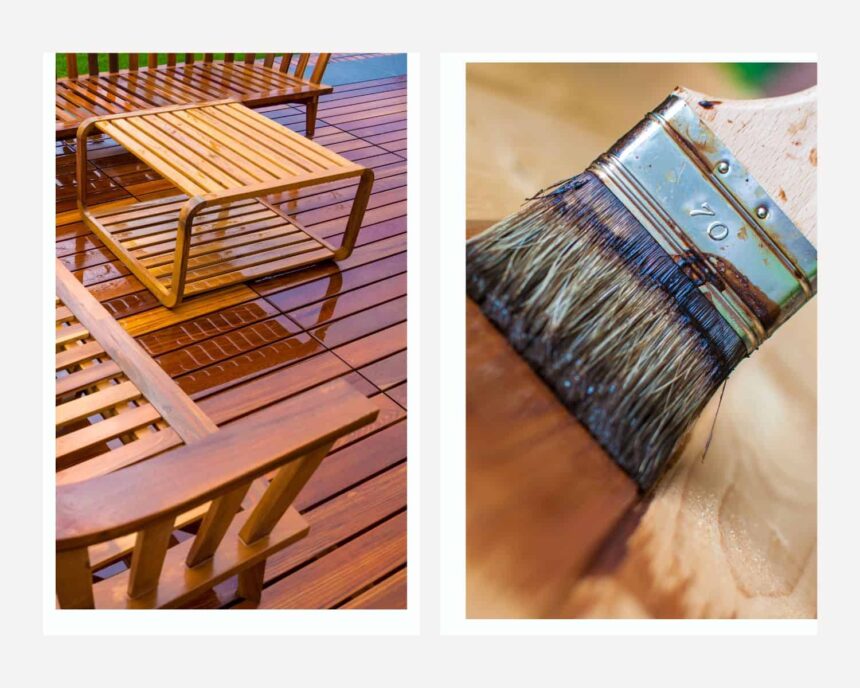 Exterior Paint
Paint is one of the most effective methods for waterproofing outdoor furniture.
It will protect the wooden parts of your furniture from rain, snow, and wind.
A coat of paint can also protect your wooden furniture from the harmful UV rays of the sun, which can cause the wood to crack and become discolored.
Paints are available in many different colors, so you can match them to your existing decorating scheme or to your home's exterior color scheme.
It is important that you choose a paint that has been specifically designed for use on outdoor surfaces; this will ensure that it contains proper ingredients that provide protection from water damage.
This method works well on all types of wood, including pressure-treated pine and cedar.
How to prepare your outdoor furniture for waterproofing
Preparing your outdoor furniture for waterproofing is a simple process that will protect your furniture and extend its life.
You need to start by cleaning the wood surface. You can use soap and water to remove all the dirt and grime.
Clean it with soap, water, and a stiff brush, then rinse it thoroughly with clean water.
Once your furniture has been cleaned, you should let it dry completely before applying any waterproofing product to it.
Apply a coat of primer to the surface. Primer helps seal the wood and prepares it for application of the final coat of waterproofing agent.
Your outdoor furniture is now ready to have a waterproofing agent applied to it.
Conclusion
Once you have your wooden furniture waterproofed, you'll be able to enjoy it for many years to come.
And since wooden furniture can be quite expensive, doing this will save you a lot of money in the long run.
When caring for your outdoor wooden furniture, it's important to remember that there is no one-size-fits-all approach.
The best way to make sure your furniture is well-protected and in great condition is to experiment with these techniques and find what works best for your home.
Keeping your patio chairs and tables dry may be a challenge depending on where you live, but if you follow these tips then your furniture should last through all kinds of rainstorms.