Teak furniture is known for its distinctive natural finish. To maintain its quality, you must learn how to clean outdoor teak furniture.
One of the problems with teak, however, is how to clean it.
After all, this beautiful wood is difficult to maintain once it has been stained and sealed.
You don't have to be a professional handyman to know that constant wear and tear will take its toll on your teak furniture eventually.
It's important you learn how to properly clean your outdoor teak furniture so they last as long as possible!
Don't worry!
Here are some tips on how to care for outdoor teak furniture.
How Often Should You Clean Outdoor Teak Furniture?
Before we get to how to clean outdoor teak furniture, it is important for you to understand how often you should clean your teak furniture.
This is a measure that will protect your outdoor furniture and help it serve you longer.
Outdoor teak furniture is a great investment for your home, but it needs to be cleaned regularly to maintain its beautiful look.
Teak is a very porous wood, so it absorbs dirt and grime easily.
If you don't clean your outdoor teak furniture regularly, the buildup of dirt can lead to yellowing or even mold growth in the future.
So, how often should you clean your outdoor teak furniture?
That depends on the type of weather you're experiencing and how often you use it.
If you live in a place where the sun is very hot and the humidity is high, then you should clean your outdoor teak furniture at least once a week.
If you live somewhere that gets a lot of rain or snow, then you may need to clean your outdoor teak furniture more often.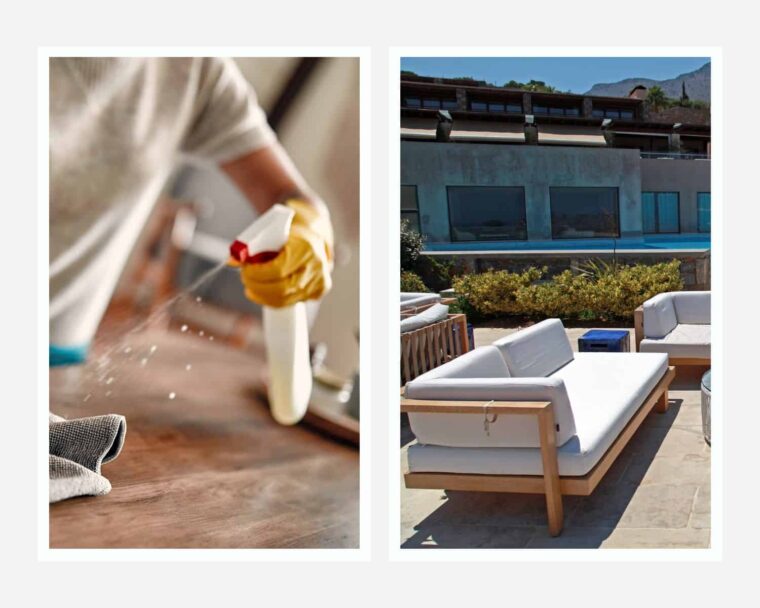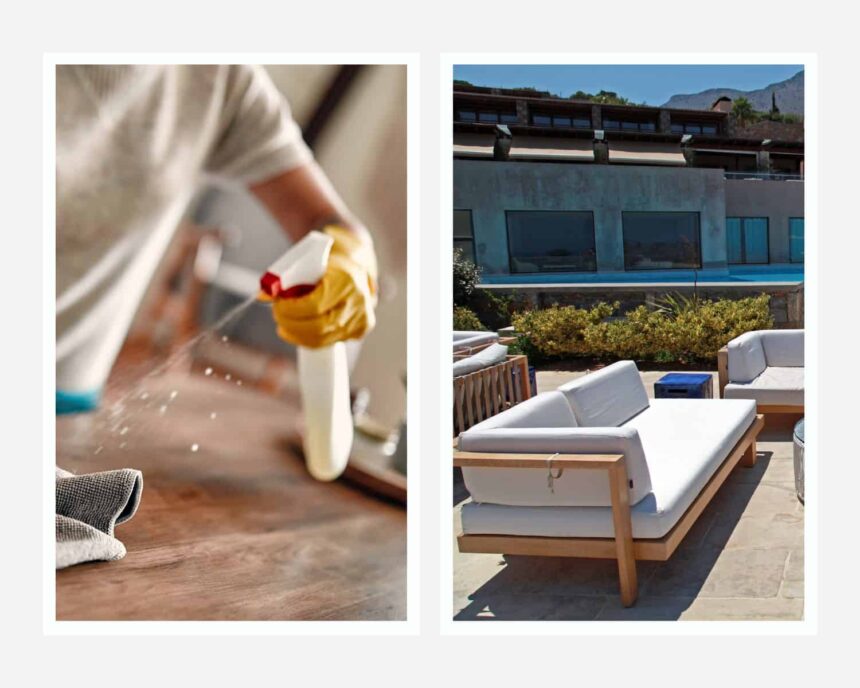 Tips To Keep Your Outdoor Teak Furniture Clean Longer
Teak wood is a hardwood that contains oils that can quickly break down over time. If you want your teak furniture to last longer, you should follow these tips:
Don't use oil, varnish, or water sealers on teak wood furniture.
These products can cause the wood to splinter and crack over time.
Instead, apply a clear sealer to prevent the oil from breaking down the wood.
Avoid harsh cleaners when cleaning your teak furniture.
You should never use ammonia-based cleaners on this type of furniture because they will dry out the finish on your teak piece over time.
Instead of using harsh cleaners, opt for mild soap and water for routine cleaning tasks like dusting off cobwebs and polishing off spills on your piece
How Do You Clean Outdoor Teak Furniture?
Before you consider cleaning your outdoor teak furniture you have to ask yourself two major questions.
Do you want to maintain the original natural color of the teak wood or do you want to go with patina?
Patina is the silver-gray color that teak wood adopts after long exposure to UV rays.
While most people prefer maintaining teak's original natural color.
There are those who prefer the patina.
Each of them requires different mechanisms when it comes to cleaning teak furniture.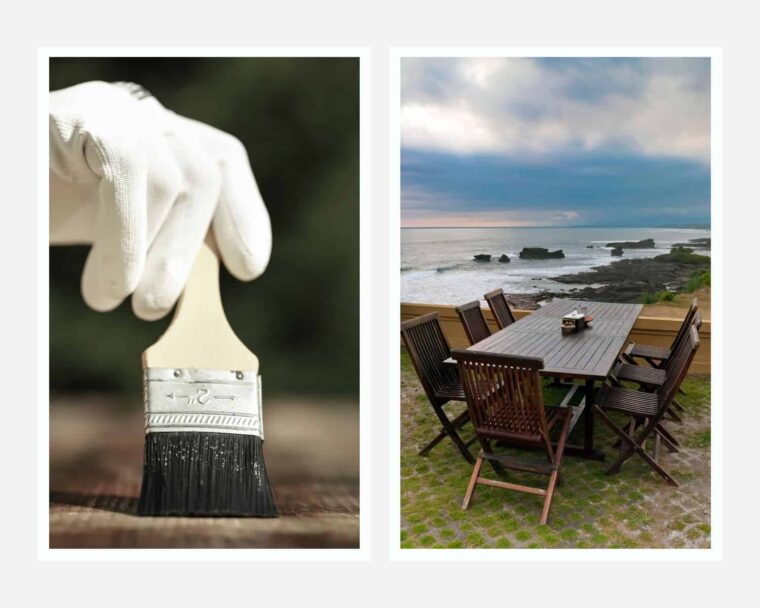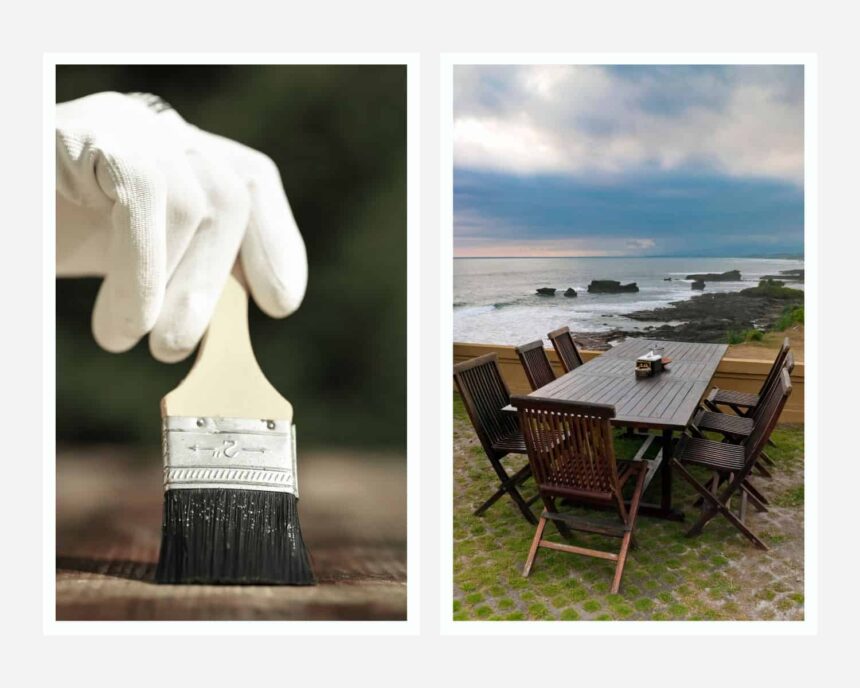 Using a Teak Protector
If you want it to maintain its original natural color, the best way to clean your outdoor teak furniture is by using a teak protector.
This is a clear protective coating that is applied to your furniture and will help protect it from dirt and grime.
But the main reason why using a teak protector is important is that it forms a layer of UV protection on your wood, protecting it from the air.
This in return keeps off dampness that causes mildew as well as oils from foods and drinks that could result in a buildup on your teak furniture.
Teak protector also creates a protective barrier between the wood and air, preventing oxidization that causes patina.
If you often use your outdoor teak furniture as a dining spot you should consider using a teak protector for cleaning your furniture.
Otherwise, your outdoor furniture will collect buildup and might eventually wear out faster than it should.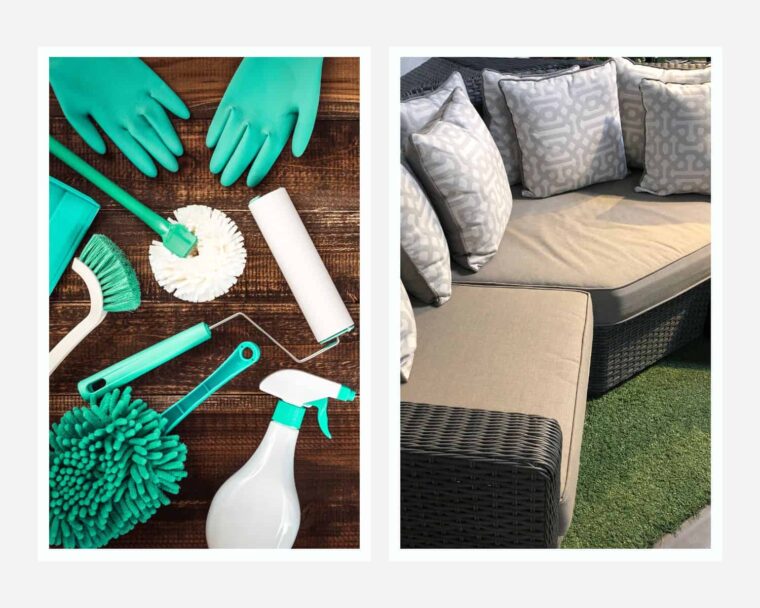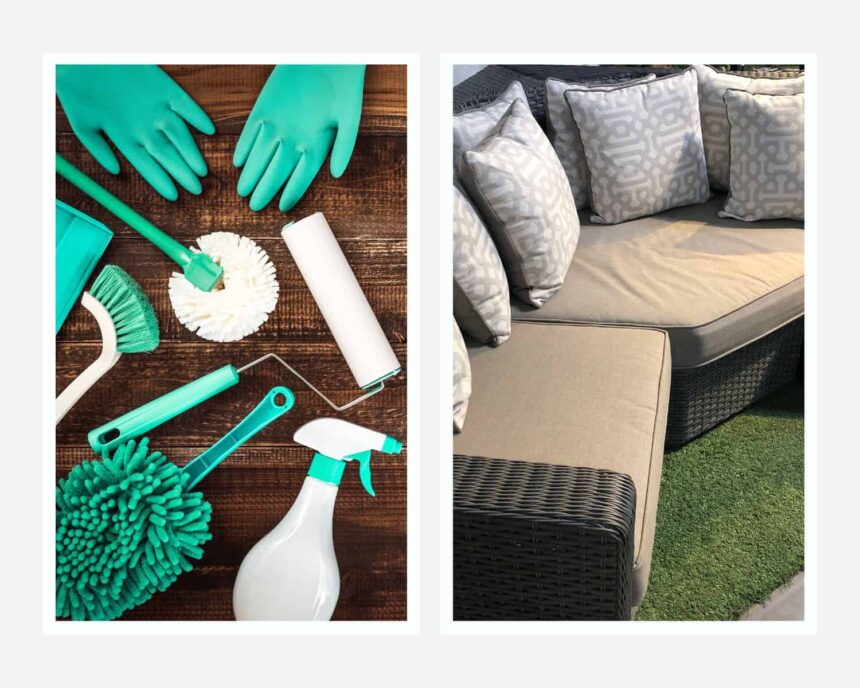 The Process of Cleaning Outdoor Teak Furniture Using a Teak Protector
Things you will need:
Teak Protector
Soft bristle brush or sponge
Laundry detergent
Bleach
Water
Teak cleaner
The Process
01. Clean the teak furniture
Mix the detergent and bleach on a ratio of 2:1 before adding it to the water.
Dip the sponge or soft brush into the mixture and then use it to scrub the teak furniture gently, concentrating on areas where dirt has built up.
If you are using a teak cleaner you don't need the detergent and bleach.
Follow your manufacturer's cleaning instructions.
Once all the dirt is gone, rinse with clean water and leave it to dry.
02. Apply the protector
With a sponge or soft piece of cloth, apply a thin layer of the teak protector.
Spread it well so that it covers every exposed part of your outdoor teak furniture.
Leave it to dry for about an hour before applying a second layer of the protector.
03. Leave it to dry
Leave your teak furniture to dry for about 4 to 5 hours before use.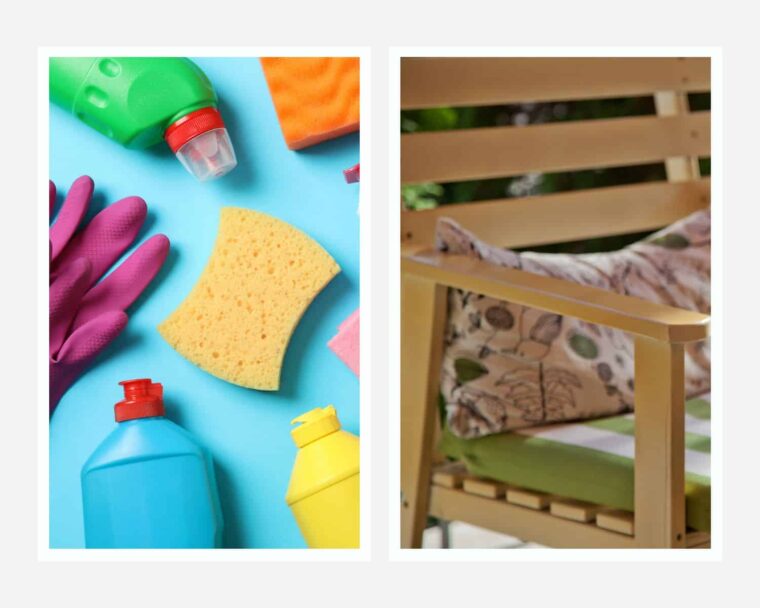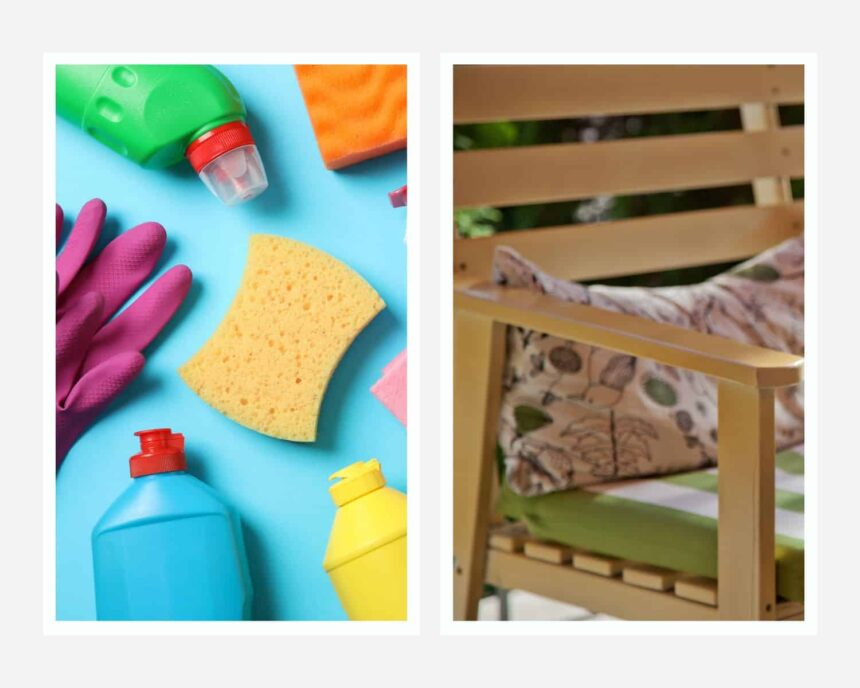 How To Clean Outdoor Teak Furniture With Patina
For those who like patina, it is important to know how to clean outdoor teak furniture with patina.
If you want to clean and restore teak outdoor furniture to its original natural color after it has changed color to patina, there are many products recommended for use.
However, you should not just buy any product.
You should consult your manufacturer and get instructions from them or check the instructions you got when you purchased the furniture to see if they've mentioned anything on this.
Otherwise, consult a professional and have them do the cleaning for you.
If your outdoor teak furniture has patina and you want to maintain that color, the best way to clean it is by simply using a mix of laundry detergent, water, and bleach.
Mix the detergent with the bleach at a ratio of 2:1.
Use a soft bristle brush or sponge to clean the surface of the furniture and then rinse it.
Repeat this process whenever you want to clean your furniture.
How to Store Outdoor Teak Furniture During Winter
Teak has an innate moisture resistance that can withstand even the harshest conditions.
But this doesn't mean that your furniture will not be damaged by the weather in winter.
Some wood species are more susceptible to moisture than others; therefore, it's important to know how to protect your chairs, tables, and benches from water damage when it comes time for winter.
Before you store your furniture, make sure that it's clean and dry.
Cover your outdoor teak furniture with protective covers that are designed for such use.
These covers may be made of canvas or other fabrics, and they can be purchased at any home improvement store.
They'll help keep your furniture protected from rain and snow while keeping it clean at the same time!
Supposal
In order to sustain it for many years to come, it is important to learn how to clean outdoor teak furniture.
So, be sure to use the appropriate materials for any cleaning and waxing.
Otherwise, you may actually do harm to your furniture or cause it to fall prey to mold or mildew.
Overall, cleaning outdoor teak furniture is not complex, but there are a few points you should keep in mind while doing so.
Hopefully, these tips have helped provide a little guidance towards maintaining your beautiful patio set!